On The Roll of Honour
Died in WW1 and commemorated in Tony Pringle's book "Lest We Forget"
No. 38899, Private, Northumberland Fusiliers, 25th Battalion (2nd Tyneside Irish) Formerly 25082, West Yorks Regiment.
Killed in Action on Friday, 12th October 1917, Aged 27.
Walter Wilding is commemorated on the Tyne Cot Memorial, Belgium, panel 19-23 and 162.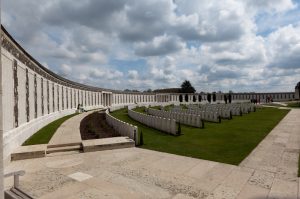 Walter was born in Badwell Ash in Q1 1890 (Stow 4A:777) the son of Harry and Martha Wilding née Smith.
In the 1891 census Walter was aged1, living at Badwell Street with his father Harry Wilding, aged 27 an agricultural labourer, born Hawstead, his mother Martha, aged 25, and brothers Harry, aged 5 and Albert George, aged 3. Mother and brothers were all born in Badwell Ash. Martha died and was buried in Richer Road cemetery, Badwell Ash on the 21st January 1939
In the 1901 census Walter was now aged 11 and living in The Street, Badwell Ash, with his parents and brothers Harry, aged 4, Arthur, aged 9 (farm servants) and Sidney W, aged 7. His brother Albert George was at Rainsford Road, Chelmsford at the Essex Industrial School.
In the 1911 census Walter was aged 22. In the census returns his name has been transcribed as Walter Wildings. He was living at White Horse Yard, Badwell Ash with his parent and brothers Arthur and Sidney. Both his brothers and his father were farm labourers. Brother Albert was now in the Suffolk Regiment, 1st Battalion at Mustafa Pasha Barracks, Alexandria, Egypt.
Military and War: Walter enlisted in Leeds and was posted to The Northumberland Fusiliers, 25th Battalion (2nd Tyneside Irish), formerly 25082, West Yorks Regiment as a Private, No. 38899.
In October the 2nd Tyneside Irish took part in the Third Battles of Ypres at the Broenbeek. The Third Battle of Ypres was also known as the Battle of Passchendaele. The battle was for control of the shallow ridges south and east of Ypres and took place between July 31st and 10th November 1917. Bad weather in October led to the battlefield becoming an impossible quagmire. The eventual capture of what little remained of Passchendaele village on 6 November finally gave General Haig an excuse to call off the offensive and claim success. However, Passchendaele village lay barely five miles beyond the starting point of his offensive. Having prophesied a decisive success, it had taken over three months; there had been 325,000 Allied and 260,000 German casualties and the whole conflict did little more than make the "bump" of the Ypres Salient somewhat larger.
Although the offensive had been continuing since July, the first battle of Passchendaele commenced on the 12th October 1917. Walter was killed on the first day of the battle where the 2nd Tyneside Irish had 22 killed and only 8 have identified graves. Unfortunately, Walter is one of those whose remains couldn't be identified and he is commemorated on the Tyne Cot Memorial. It is the largest cemetery for Commonwealth forces in the world, for any war and contains 11,965 burials, of which 8,369 are unnamed.   Walter's younger brother, Arthur, was killed in Action on Wednesday, 27th March 1918 Aged 26.
Walter was awarded the War, Victory Medals and the WW1 Memorial Plaque – "The Dead Man's Penny". His Medal Roll can be seen here. (Suffolk Regimental Museum, Bury St. Edmunds)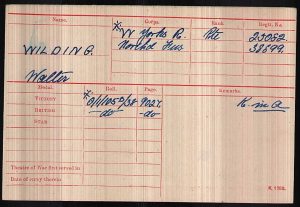 Walter's CWGC Commemorative Certificate can be seen here.