On The Roll of Honour
Died in WW1 and commemorated in Tony Pringle's book "Lest We Forget"
Aged 21
No. 5255, Private, East Surrey Regiment, 8th Battalion.
Killed in Action on Thursday, 3rd May 1917.
William Largent is commemorated on the Arras Memorial, bay 6.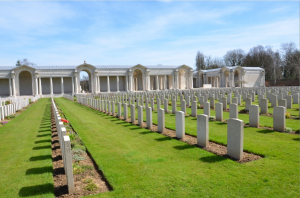 William was born in Great Ashfield in 1895 (Stow Q3-1895 4A:814) the son of William and Ada Amelia Largent (née Crick).
In the 1901 census William was aged 5, born in Great Ashfield and living at The Street, Norton with his father William, aged 35 an agricultural labourer, born in Badwell Ash; his mother Ada, aged 26 a laundress at home, born in Hilborough, Norfolk and brother Edgar, aged 4, born in Norton.
In the 1911 census William was now aged 15, a farm labourer and living at Westley, Bury St. Edmunds with his father William Largent, aged 44, team man on the farm, born in Badwell Ash; his mother Ada Amelia, aged 36 born in Rushford, Norfolk; brothers Edgar, aged 14, a farm labourer born in Norton; Leonard, aged 8, born in Ixworth Thorpe; Walter Edward, aged 2, born in Westley, and sisters Florence Emily, aged 6 and Ada Amelia, aged 1 both born in Westley. Brother Edgar served with the Suffolk Regiment (No. 18823) in the Middle East and contracted malaria which led to his discharge through health reasons on 26th February 1919.
Military Record: William enlisted in Bury St. Edmunds. He was a Private in the 8th Battalion East Surrey Regiment, Regimental No. 5255.
The Battle of Cambrai/Arras took place in the spring of 1917. To the south-west of Arras is the small village of Chérisy where on the 3 May 1917 nearly 6,000 British soldiers died for very little gain. In the Official History of the Great War written by Cyril Falls he describes these events as. 'a melancholy episode' with the attack that day was an unmitigated disaster for the attacking British forces.
At Chérisy on the 3rd May 1917 the left of the 14th Division were stopped by machine gun fire coming from Triangle Wood. It appears that the attack as a whole was a complete failure, with no ground having been won and kept by the end of the day. Casualties for the 8th East Surrey amounted to 13 officers and 381 other ranks, of which 99 were killed or missing. Only three have identified graves. William was one of these men killed and has no known grave, being commemorated on The Arras Memorial.
According to his medal index card, William was presumed to have died during this battle on the 3rd May 1915. William's Medal Roll can be seen here.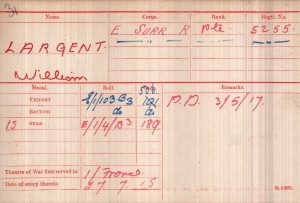 An extract from the 8th Batallion East Surrey Regiment's action at Cherisy 3rd May 1917 can be found here.
William's CWGC Commemorative Certificate can be seen here.
This is the same battle that William Nice died in with The East Surreys.