On The Roll of Honour
Maurice was born on the 11th November 1896 when his father Richard Standly was 42 and his mother, Dorothea Susanna (née Pettiward) was 39. They were living in North Weald, Essex but his father later became the Vicar of Badwell Ash.1901 Census: Maurice, aged 4 lived in North Weald, Essex with his father, aged 46, mother, aged 43 and his sister, Phoebe, aged 4. There were 3 servants.
1911 Census: By this time with his father in Badwell Ash, Maurice, aged 14 had been sent off to Malvern College in Worcestershire where he lived with many other pupils under the supervision of Mr. and Mrs. Bullock who, presumably acted as his housemaster and house nurse as was often the tradition in those days. One source states that his mother had died on 21st February 1902 at the age of 44 when Maurice was 5 and whilst they were still in Essex.
Military and War: The first indication of Maurice's participation in The Army and World War One came in October 1917 where he appears on the Army Lists as a 2nd Lt Royal Artillery and the date of the first appointment as being the 27th October 1915 when Maurice would have been just 19. On the 21st July 1918, at the age of only 21, and as a Lieutenant, he was awarded the Military Cross when, as a member of the RA he showed " ….conspicuous gallantry and devotion to duty. He remained in the Observation Post under intense fire, observing the attack and engaging the enemy with direst observation throughout the day. He also repaired a telephone wire under heavy fire."
Maurice was awarded The 1914-1915 Star, The British War Medal and The Victory Medals and his Medal Roll can be seen here.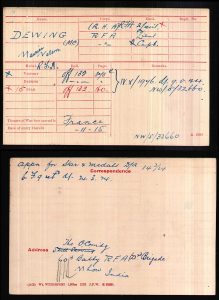 Post War: 3 years after the war ended (in 1921) he married Sheila Rhoda Hawkins and they had one child in March 1929: Hugh M Dewing, born in Alverstoke, Hampshire.
Meanwhile, Maurice had obviously decided to become a career soldier. On 13th August 1921, he arrived in London from Bombay, where presumably, he had been stationed. He had sailed on the P. & O. Liner, Nikunda. It is likely that this was the first occasion that he'd had sight of his 5 month old son, Hugh.
By World War Two he had been promoted and on 18th February 1943, aged 46 he was Brigadier (Acting) M.N. Dewing MC (13421). He served in the Royal Regiment of Artillery (Bury St Edmunds) and was awarded the Distinguished Service Order (DSO) according to the London Gazette of that day. In 1942 he became Acting Commanding Officer 151st Brigade, North Africa, the Deputy Director of Military Training Middle East Command, the Director of Military Training Middle East Command and the Commander Royal Artillery 8th Indian Division.  In 1948 he was promoted to General Officer Commanding 2nd Anti-Aircraft Group.
Ten years later, in 1951 at the age of 56, he left the army as Major General M.N. Dewing, CBE, DSO, MC (13421). The source states that he was 'late' of the Royal Regiment of Artillery and was awarded the Companion of the Order of the Bath as stated in the 2nd January edition of the London Gazette.
There is also evidence elsewhere during his army career of comings and goings. As well as Bombay, it would appear he also travelled to Sydney, Australia.
Maurice died in Mere, Wiltshire on 3rd January 1976 at the age of 79.