Died in WW1 and commemorated in Tony Pringle's book "Lest We Forget"
Aged 39
No. 23614, Company Sergeant Major, The King's (Liverpool Regiment), 17th Battalion. Formerly 7589, Grenadier Guards.
Killed in Action between 10-12th July 1916.
George Morley is buried in London Cemetery and Extension, Longueval, France, grave 4:F:23
Note: George Morley is not named on the church war memorial plaque.
George was born in Badwell Ash in Q1-1877 (Stow 4A:612), the 6th son (1 of 12 children) of William and Susan Morley (née Flatt).
In the 1881 census George was aged 4 and living at Badwell Green with his father William, aged 35, an agricultural labourer; his mother Susan, aged 34, a sister Rosie, aged 10, brothers Walter, aged 9, Harry, aged 7, Samuel aged 6 and sister Jessie, aged 1. The whole family were born in Badwell Ash.
In the 1891 census George was now aged 14 and was living at Thicks Farm, Badwell Green with his parents, brothers Walter and Samuel (both agricultural labourers), sisters Jessie and Florence, aged 7, born in Bacton, and brothers William, aged 5 and Charles, aged 3, both born in Badwell Ash.
In the 1901 census now aged 24 he had enrolled in the army and was in the Grenadier Guards at Wellington Barracks, Bird Cage Walk, St James's Park, London. His parents, brothers Willie and Charlie and a sister Maude, aged 9, born in Badwell Ash, were now at Church Lane, Badwell Ash.
He married Jessie Annie Chittock, aged 22, born in Stonham Parva, on 30th August 1901, at Highgate St Michael's, Camden and lived at 1 Pickering Cottages, Highgate. On the Marriage Certificate, George is described as a Valet. Jessie re-married as Stannard and was living after that marriage at The Bungalow, Stonham, Suffolk.

In the 1911 census George was aged 32 and was a bank messenger, living at 3 Bridgewater Terrace, Grange Road, Leyton, with his wife Jessie aged 34 and daughters Winifred Jessie, aged 9, born in Highgate, and Anne Maud, aged 3, born in Leyton. His parents were still at Church Lane, Badwell Ash with his brother William and sister Maud. It is recorded that George had 12 siblings, but one had died.
Military and War: He enlisted in London in the 17th Battalion Kings (Liverpool Regiment) Regimental No. 23614, as a Company Sergeant Major (due to his previous experience in The Grenadier Guards).
The 17th Kings (Liverpool) were engaged in the fighting around Trones Wood from 10th to 12th July 1916 during the Battle of the Somme. From The website "The Long, Long Trail" a History of the British Soldier during the First World War, we find that: "By the end of 10 July, Generals Rawlinson and Haig were becoming anxious, for the second step of the Somme offensive, the assault on the German second line was set for 14 July. But without Trones Wood, it would not be possible to move on from Montauban to take Guillemont and Longueval. Around 2:45 am on 11 July, a very strong British bombardment was fired on Trones Wood. At 3.30am, 20th King's (Liverpool) and 2nd Bedfords advanced into battle at the southern end of the wood. There was heavy fighting, but no decisive result. The enemy rushed reinforcements into Trones. Luckily German orders for a counter-attack became known and at 6pm, an intensive barrage was fired on their planned forming up area between Trones and Guillemont, which effectively destroyed the attack. At 10.30pm, 17th King's (Liverpool) entered Trones without opposition, and took up a line along the south eastern edge.
On 12 July, a line was dug to link up with the Bedfords, and that evening an enemy attack on Maltz Horn Trench and the wood was repelled from this line, assisted by British and French shellfire. But some of Trones Wood remained in enemy hands still, and it was not until the much greater attack made by the British on 14 July 1916 that it finally fell."
During the build-up to the battle, men moved to the front ready to go "over the top". Each soldier usually spent eight days in the front line and four days in the reserve trench. Whilst in the front line, soldiers would live in dugouts to try to prevent being wounded from the constant artillery barrages. This is a photograph of a trench dugout on the Beaumont-Hamel section of the front line on The Somme. Another four days were spent in a rest camp that was built a few miles away from the fighting. However, when the army was short of men, soldiers had to spend far longer periods at the front.   Trones Wood today has regained all its natural beauty.
The 17th King's Liverpool lost 29 men on the 10th and George was one of the 17 of them whose actual death was recorded as between 10th and 12th July. Four men were buried in Bernafay and George and one other in London Cemetery, but the rest were never identified and are recorded on the Thiepval Memorial where a total of 72,337 men with no known grave and who fought at The Somme are commemorated.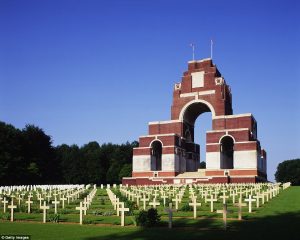 George was awarded the British and War medals and "The Dead Man's Penny". George's Medal Roll can be seen here.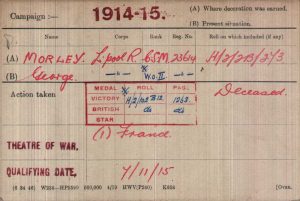 George's CWGC Commemorative Certificate can be seen here.