On The Roll of Honour
Died in WW1 and commemorated in Tony Pringle's book "Lest We Forget"
Lieutenant Colonel, DSO MID Royal Engineers.
Killed in Action on Thursday, 4th April 1918, aged 29.
Robert Edward Dewing DSO is commemorated on The Pozieres Memorial in France, panels 10-13
Robert Edward Dewing was born in Bury St Edmunds on 4th August 1888 (Bury St. Edmunds Q3-1888 4A:64), baptised at St John's, Onehouse on 9th September 1888. Son of Richard Standly and Dorothea Susanna Dewing (née Pettiward).
In the 1891 census Robert was aged 2, living at Braintree Road, Great Waltham, Essex with his father, Richard S Dewing, aged 36, a clerk in Holy Orders, born Brighton, his mother Dorothea S, aged 33, born Great Finborough, brother Richard H, aged 2 months, born in Great Waltham, and Aunt Helen A Pettiward, aged 23, born in Great Finborough.
In the 1901 census Robert was now aged 12; he was a boarding scholar at Eversley House, The Common, Southwold. His parents were at the Vicarage, North Weald, Essex with his sister Phoebe D, aged 8 and brother Maurice Nelson, aged 4, both born in North Weald.  In March 1901 he started at Haileybury College, a public school in Hertfordshire where he was a student until February 1906.
In the 1911 census Robert was aged 22, single and a 2nd Lieutenant in the Royal Engineers at the Barracks at Brompton and St Mary's, Chatham. His brother Richard Henry was an officer cadet in the Royal Artillery at Woolwich, brother Maurice was at school in Upton on Severn.
He married Ruby Edith Boulderson (Portsmouth Q1-1913). They lived in Southsea, Hampshire. Their 1st daughter Patricia Dorothea was born 6th June 1917, 2nd daughter Jean Phyllis was born on 17th October 1918, just 6 months after her father's death. His wife died in the influenza epidemic on 21st April,1919.
Brother Richard Henry Dewing became Major General Richard Henry Dewing CB DSO MC who survived both World Wars, as did his other brother Maurice Nelson Dewing who was a Brigadier and was also awarded the DSO and the Military Cross. From the address of his daughter on the medal index card, she was living with her grandfather at the Rectory in Stowlangtoft in late 1919. However, the connection to Badwell Ash is quite simply that from 1909, his father Richard Standly Dewing was Rector of the parish until sometime in early 1919.
Military and War: He was commissioned on 23rd July 1909. He was mentioned in despatches and was also made an Officer of the Legion of Merit (USA). He was awarded the Distinguished Service Cross on 25th August 1916. "For conspicuous gallantry and devotion to duty when preparing for the offensive and later when consolidating positions won. Though wounded early one morning he stuck to his post all day, and drove off an enemy counter-attack with great determination."
On the 4th April 1918 the 8th Battalion, Royal Berkshire Regiment, to which Robert was attached, were in action in the Battle of Avre. This was one of the final battles of the Kaiserschlacht, the 1918 German Spring Offensive, a series of German attacks beginning on 21 March 1918, which marked the deepest advances by either side since 1914. The Germans had realised that their only remaining chance of victory was to defeat the Allies before the overwhelming human and matériel resources of the United States could be fully deployed. They also had the temporary advantage in numbers afforded by the nearly 50 divisions freed by the Russian surrender. In leading a desperate counter-attack, Lt. Col. Dewing was killed.
In the Reading Mercury, Oxford Gazette, Newbury Herald and Berks County Paper of the 20th April 1918 there is an article headed "Royal Berks Casualties – Another Colonel Killed". The article continues, "A Third Colonel in The Royal Berkshire Regiment has been killed – Lt Col. R E Dewing D.S.O. R.E. who was highly spoken of by those who served under him,"
In St Andrews Church, Church Rd, Great Finborough there is stained glass window commemorating Robert's memory. Great Finborough was his mother's family's home.   It depicts St. George and at the bottom a brass plaque with the regimental badges and Royal Arms. The brass plaque reads: This window is dedicated in thankful remembrance of Robert Edward Dewing DSO Captain Royal Engineers and Temp. Colonel 8th Battn Berkshire Regt who fell in France April 4th 1918 and of Clement Beckford Bevan Temp Capt. 2nd Battn. Suffolk Regt who fell in France July 20th 1916, grandson of Robert John Pettiward
Robert's Medal Roll from WW1 can be seen here.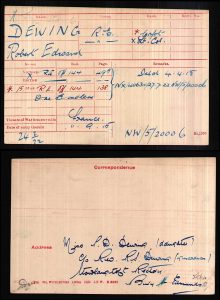 Robert's CWGC Commemorative Certificate can be seen here
He left £1454.13s.4d (£57,750 in today's values).