On The Roll of Honour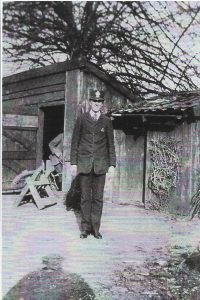 Herbert was born on 29th July 1897 in Badwell Ash to Albert and Ada Fuller.
In the 1901 census, Herbert, aged 3 was living The Street with his father, Albert, aged 28, an agricultural labourer and his mother, Ada, aged 26 and his two sisters, Dora May aged 4 and Hilda Florence aged 4 months.
In the 1911 census, Herbert, aged 13 was living in White House Yard with his father, Albert, now aged 38 and a Delver in a stone quarry (a person who digs ditches!) and his mother, Ada, now aged 36 and his two sisters, Dora May aged 14, a Day Girl (a Day Girl is a non-resident domestic servant doing odd household jobs, running errands etc.) and Hilda Florence aged 10 and his brother-in-law, Freeman Largent, aged 34 who was also a Delver.
Military and War: We know that Herbert was a Private in the Cycle Corps of The Army Service Corps regimental No. SS/11503 and then posted to The Labour Corps Regimental No. 304931. Unfortunately no other information can be found and it's possible that his is one of the 2 million records lost in The Blitz. However, we do have his Medal Roll which can be seen here which confirms he was awarded the 1914/15 Star, War and Victory medals.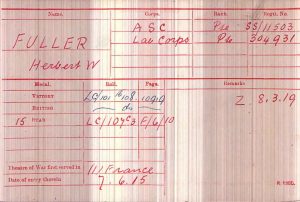 Post War: Herbert married Bessie Alice Sturgeon in March 1931 in the Bury St Edmunds district. They had a son Gordon Alan Fuller born on 9th September 1933 who married and had three children. He died in Oct 1998.
In the 1939 register, Herbert, aged 42, now a postman is living with Bessie, aged 33 and Gordon (now aged 6) at 1 Johnson Street, Norwich.
Herbert died in December 1971 in Bury St. Edmunds. (Bury St. Edmunds 4B-4931).