On The Roll of Honour
Leonard was born May in 1895 to Charles and Anna Mary Carter (née Causton).
In the 1901 Census, aged 6, he was a Scholar and living in Wyverstone Road, Long Thurlow (between Green Farmhouse and Tiptofts Farm) with his father, Charles, aged 38, a Horseman on the Farm and his mother, Anna Mary aged 37 and a sister, Alice M, aged 8.
In 1911 Census, aged 16, he was employed as a Farm Labourer and living in Long Thurlow with his father, Charles, aged 38, a Horseman on the Farm and his mother, Anna Mary aged 37. There were no siblings.
His mother died on the 1st December 1918 aged 54 and his father in Dec 1926 aged 63.
Military and War: Leonard enlisted in on the 26th January 1916 aged 21 in Bury St. Edmunds and was posted on the 24th May 1916 to the Royal Garrison Artillery, Regimental No. 86282.
According to Leonard's Service Record in October 1916 he was posted to 235 Siege Battery. This battery arrived in France in December 1916 and first served on the Somme. It later transferred to Arras and then Loos. 235 Siege Battery was a mechanised battery with armament of 4 x 6" in Howitzers (26 cwt), and compliment of 5 Officers and 130 Other Ranks accompanied by 2 Officers and 46 Army Service Corps Mechanised Transport personnel. They sailed on the SS Londonderry from Southampton to Le Havre under command of Major C F Entwhistle. Soon after arrival all their guns and stores were handed over to 166 SB, and the 235th took over their guns already positioned at Sailly Au Bois on The Somme Battlefield.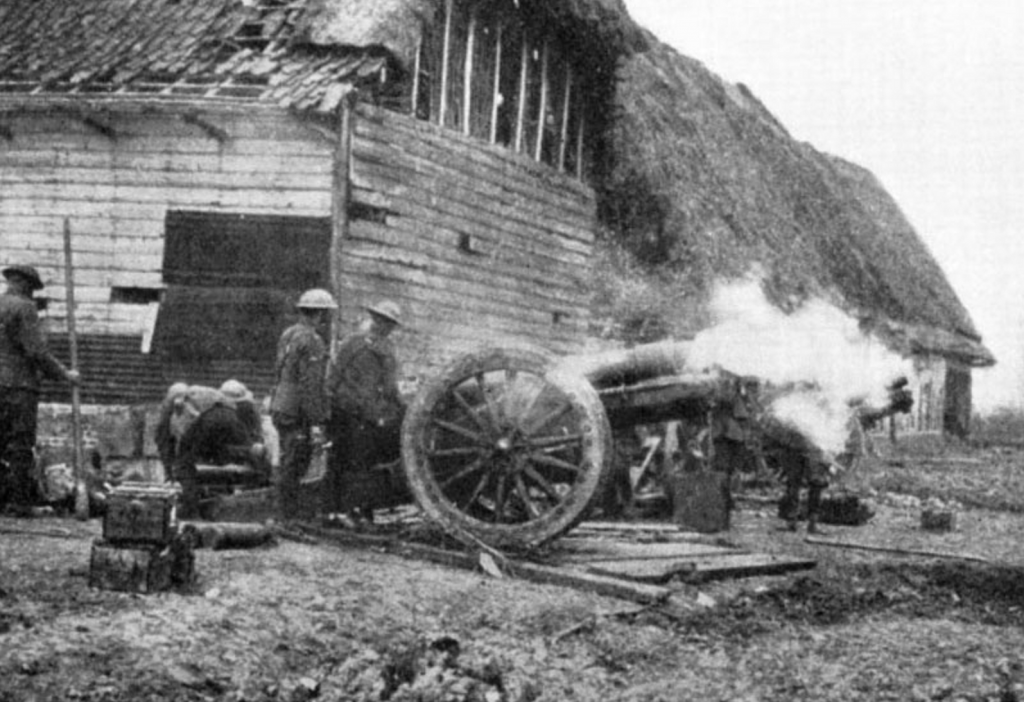 Their guns were first fired in anger on the 5th January 1917 so they actually missed the Somme battles. That winter had particularly low temperatures that caused the guns to freeze so braziers were kept lit under the guns day and night. They subsequently moved to Bois La Maison Blanche near Arras where at one point they actually had no guns as they were all at workshops for various reasons including hostile retaliatory fire and overuse.
Leonard was given special leave to attend his mother's funeral in December 1918 and was eventually discharged on the 26th January 1919.
In late August 1917 they moved to Loos, where again as some of their own guns were out of commission they had to borrow others from another siege battery. Later they moved to the positions occupied by 140 Siege Battery at Double Crassier (Double Slag Heap) at Loos. In late Dec they were positioned at Langemark with 8 Brigade, who they remained with until the end of the war. (The Great War Forum – 235th siege Battery Royal Garrison Artillery)
Leonard was awarded the Victory and British War Medal and his Medal Roll can be seen here.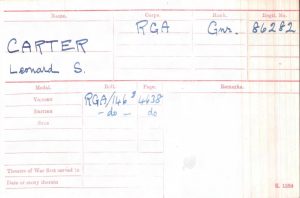 Post War: Leonard, aged 25, married on 17th October 1925 at the Primitive Methodist Chapel, Oxford Road, Altrincham, Cheshire to Beatrice Alice Panton, aged 26
Leonard died in December 1965 aged 71 at Bucklow, Cheshire.