On The Roll of Honour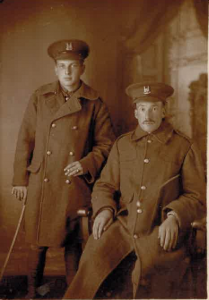 George was born in Badwell Ash in July 1892 (Stow Q23-1892 4A:767) son of Spencer and Minnie Emmaretta Symonds (née Hatten). He was one of five children, the others being William Harry (b.1894), Spencer Leslie Hatten (b.1897), Herbert Eric (b.1899) and Margaret (b. 1906). They all lived at Shakerland Hall in Wyverstone Road, Badwell Ash.
There's no information about George's whereabouts in the 1901 census. It's very likely that he was studying at Framlingham College where all his brothers went for their education.
In the 1911 census, George was 18 years old described as a Farmer's Son working on the Farm, living at Shakerland Hall with his father Spencer Symonds, aged 48, a Farmer and his mother, Minnie, aged 44, and 3 siblings, Spencer, aged 13, Herbert aged 11 and Margaret, aged 4. There was also a servant living with them, Julia Nice, aged 24 (single) and described as a General Servant (Domestic).
In the 1914/15 Badwell Ash Polling District Ownership Electors Certificate, George, who had the right to vote, is described as "A Lodger", living in One Room, first floor, furnished with the name and address of the Landlord being Mr. Spencer Symonds Shakerland Hall, Badwell Ash.
 Military and War: According to George's Service Record
he enlisted in Bury St. Edmunds on 17th October 1914 in The Territorial Force. In his Service Record he is called "Raymond Symonds" and is shown as joining the 6th Cyclist Battalion, Suffolk Regiment with Regimental No. 6/1867. He was discharged on the 20th November 1914 having served only 2 months. The reasons given were "Being medically unfit under Para. 156.11". So it was back home for George.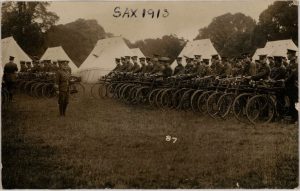 He then re-enlisted on the 3rd June 1915 in the 3/1 Suffolk Yeomanry No. 2157. However, he was again discharged after only just over a year's service as being medically unfit with a "Dental condition much below normal"   George was only 23 years old! Whilst he was in the army he contracted Diphtheria and was hospitalised from 13th December 1915 to 21st January 1916.
At that time there was concern about the number of volunteers being rejected due to defective teeth when dental treatment could have rendered them fit for service, and later regulations were put in place to arrange for such treatment to be set in place.
Under the 1908 Territorial Forces Act an Essex and Suffolk Cyclist Battalion was formed, which in 1911 became the 6th (Cyclist) Battalion, Suffolk Regiment under the command of Lt Col W. T. Pretty. At the outbreak of World War One the battalion was in camp at Pakefield Cliff, near Lowestoft in Suffolk on its annual training. During the early months they garrisoned coastal stations between the rivers Deben and Waveney.  The main war station for this unit was at Saxmundham and until other cyclist battalions arrived, they defended the whole of the Suffolk Coastline. The battalion did not serve abroad as a unit but provided drafts for the other battalions on Foreign Service. However, at the outbreak of war all the men of military age in the battalion volunteered for overseas service. (Suffolk Archive).
Post War: George was called him "Ray" by his family and his nieces and nephews called him 'Uncle Ray'.
George died on 1st April 1933 aged 40 at the West Suffolk Hospital. In the Probate records George's address is shown as Squirrels Hall, Walsham le Willows and his occupation as "Farmer". He left and estate valued at £1,073 19s 7d (£72,000 in today's money).