Died in WW1 and commemorated in Tony Pringle's book "Lest We Forget"
No. 320907, Norfolk Regiment, 12th Battalion formerly 8744 Norfolk Regiment.
Killed in Action on Monday 19th August 1918.
Percival George Smith is buried at Outtersteene Communal Cemetery Extension, Nord-Pas–de-Calais.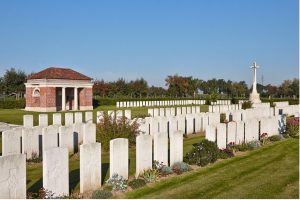 Percival was born in Aldershot on 27th August 1894 (Aldershot Q3-1894 2A:124) son of Alma and Maria Smith (née Fisher).
His father Alma, born in Badwell Ash son of Robert and Mary Ann (née Gladwell), was a sapper in the 12th Company Royal Engineers and fought in The Boer War. He died from enteric fever (typhoid) at Skerkstroom, Eastern Cape, South Africa on the 24th January 1900 and is remembered on the Boer War memorial in Bury St Edmunds.   Alma would have been entitled to receive the Queen's South Africa medal with Cape Colony clasp.
In the 1901 census Percival was aged 6 and living at 46 Eastgate Street, Bury St Edmunds, with his widowed mother Maria, aged 31, a shopkeeper, born in Great Barton, his sisters Edith, aged 4 and Ada, aged 3 both born in Aldershot, brother Frederick, aged 9 months born in Bury St Edmunds and Aunt Mary Fisher, aged 40 born in Great Barton.
In the 1911 census now aged 16, a farm labourer, Percival was still at 46 Eastgate Street, Bury St Edmunds with his widowed mother Maria, his sisters Edith and Ada, brother Frederick and brothers William, aged 6 and Reggie, aged 4 and a sister Dorothy, aged 1, all born in Bury St Edmunds and a lodger Charles Pawsey, aged 49 a widower, milkman born in Great Barton who married Maria in 1912. It therefore seems that William, Reggie and Dorothy were born out of wedlock.
Percival's brother, Frederick Alma Smith, served as a private 83768 with the 51st Battalion Royal Engineers and survived the War.
Military and War: Percival enlisted in Bury St Edmunds. By virtue of the fact that he was in France on 16th August 1914 it seems that he may have been a regular soldier.
On 19th August 1918 the objective for the 12th Battalion, Norfolk Regiment was to take part of the road running from Outtersteene to Vieux Berquin, including two farms, Lesage on the left and Labis to the South-West. At 5pm they advanced on the right of the 87th Brigade to take Lynde Farm. Their assembly had been unseen by the enemy, but as they reached a strong point just beyond the barrage they were met with withering machine gun fire. Despite this some companies pushed close to the final objective of Labis Farm. Here they were checked until reinforcements arrived and by 6pm Lesage Farm had been taken and 20 minutes later the enemy withdrew from Labis Farm which was occupied by 7.23 pm.
The Battalion had taken 60 prisoners and captured 12 machine guns, but had lost many of their own, including Percival George Smith. CWGC gives the number of deaths in the 12th Norfolks on the 19th August as 39. Percival was awarded the 1914 Star, Victory and War medals as well as The WW1 Commemorative Plaque. His Medal Roll can be seen here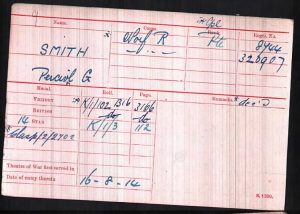 Percival's CWGC Commemorative Certificate can be seen here.