George was born in Walsham le Willows on the 5th January 1882 to Harry Frost (b.1855) and Sarah (b.1851 in Troston)) née Turner.   He was baptised on the 5th March 1882 at Walsham le Willows.
George's father Harry died in April 1889 aged only 34 leaving Sarah a widow.
1891 census: George, aged 8 and a scholar was living in Canham Green, Walsham le Willows with his mother Sarah, a Widow aged 45, his brother John also a scholar, aged 12 and his sister, aged 7.
1901 census: George, aged 18 and an Agricultural Labourer was living in West Street, Walsham le Willows with his mother Sarah, a Widow aged 60, his brother John an Agricultural Labourer aged 22, and his sister Ada aged 20.
1911 census: George, a farm labourer, aged 28 was living at The Green, Badwell Ash with his mother, Sarah aged 63, a Widow and working as a House Keeper, his 2 siblings, John 32, a farm labourer and Ada 30, a cook domestic as well as a granddaughter Ada, aged 4. All the children were single.
Military and War: He enlisted on the 5th September 1914 at Bury St. Edmunds the same day as his brother John. He was posted to the 8th (Service) Battalion East Surrey Regiment. According to his Service Record he was discharged on the 18th December 1914 as "unlikely to become an efficient soldier". The precise reasons for his discharge were stated as: "This man is suffering from hemorrhoids. He has deformed toes on both feet and is quite unable to march or perform his duties. In my opinion he will never become efficient".
Post War: On 27th October 1913 George married Lillie Alice Hunt (b. 19th April 1886) at Langham Church. Regrettably George died only 5 years later on the 9th January 1918, perhaps from the flu pandemic? He is buried in Langham churchyard where he has a Military Headstone which states "121924 W. G. Frost Royal Army Medical Corps – 9th January 1918 – Aged 35".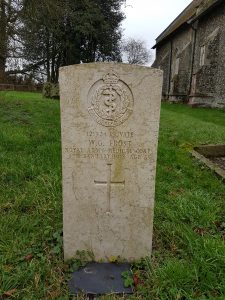 In the 1939 Register, Lily is living in Long Thurlow, now aged 53 with William H Frost, a Farm Labourer aged 22 who we assume to be their son.