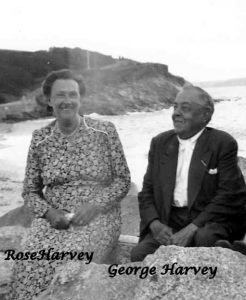 George was born in Badwell Ash in 1879. His parents were Henry and Henrietta Harvey.
In the 1881 Census: George was aged 2 and living in the High Street, Thelnetham, Suffolk with his father, Henry, aged 34 and an Innkeeper; mother, Henrietta, aged 34; Harry Frank – although Harry's age of 4 isn't consistent with his date of birth in 1889 – 2 years earlier!); sister Mabel, aged 10 months and Emma Rose, a servant, aged 15 from Ashfield, Suffolk.
In the 1891 Census: No trace of George!
In the 1901 Census: Now aged 22, he lived at 27, Lyche Grove, Croydon, Surrey with his wife, Rosetta, aged 20 and born in Camberwell, Surrey and their son, Jack, aged 10 months. George was a Butcher's Assistant.
In the 1911 Census: Age 32, he lived at 16, Banstead Villas, Woodmansterne Rd., Croydon, Surrey with his wife, Rosetta, aged 30 and their 5 children: Jack, aged 10, Nora, aged 8, Dorothy aged 6, Victor, aged 3 and Kathleen, aged 10 months.
George had married Rosetta Florence Ingersoll (b. 1878 in Camberwell) on 2nd March 1900 at St George's Registry Office, Hanover Square, London. George and Rose are pictured above. He was c. 21 and she was 19. In 1901 their son, Jack was born in Croydon, Surrey. Altogether they had 6 other children, Nora (b. 28th Feb.1903), Dorothy (b. 12th Nov. 1904), Robert (b. 20th Sept. 1907), Kathleen (b. 21st May 1910), James (b. 11th Nov. 1911), and Barbara (b. 29th Jan 1915).
Military and War: George signed up for the army on 10th December 1915 at the age of 37 years 3 months. At the time, he was a Butcher's Manager. He fought as a Private in the Suffolk Regiment, No. 62641 and in the 34th London Regiment, No. 897403. His Service Record is in very poor condition having been burnt but it does seem that he served abroad as there is an entry which could possibly be dated April 1918 which shows he was posted back from Calais to the U.K. He served for a total of 5 years and was awarded the War Medal and a Victory Medal. (Suffolk Regimental Museum, Bury St. Edmunds).
Post War: George presumably lived at 1 Dagnall Park, Norwood in the London area after the war and died in 1960 in Bromley at the age of 81. His wife, Rosetta, died 2 years later in Surrey.
Henry (Dad) died on 24th Dec 1917, probate 13th March 1918, left £4,517 15s 7d the equivalent of £219,088 today, went to Henrietta, his mother, Victor Harvey, his brother and Spencer Symonds from Shakerland Hall.