On The Roll of Honour
Died in WW1 and commemorated in Tony Pringle's book "Lest We Forget"
Aged 21
No. 5058, East Surrey Regiment, 8th Battalion.
Died of his Wounds on Friday, 4th May 1917..
William Nice is buried in Warlincourt Halte British Cemetery, Saulty, France, grave 10: G:13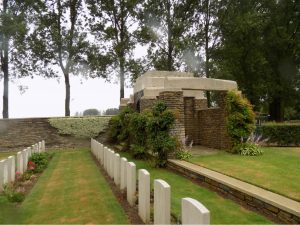 William was born in Badwell Ash (Stow Q2-1896 4A:819) the son of John Thorsby and Maria Nice (née Largent).
In the 1901 census William was aged 5 and living at The Street, Badwell Ash with his father John Nice, aged 32, a pig and cattle dealer, his mother Maria, aged 46, sister Thirza, aged 23 and brother John, aged 8. They were all born in Badwell Ash.
In the 1911 census John was now aged 15, a boy on farm, still living at The Street, Badwell Ash, with his widowed mother, sisters Thirza, aged 31 and Emma, aged 30, brother John who was now recorded as Jack, and a cousin James, aged 44. His mother had borne 13 children but 6 had died. His father had died in 1902.
His brother John was killed on March 27th 1918 in France and is commemorated on the Pozieres Memorial.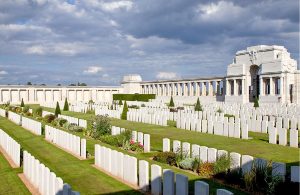 Military and War: He enlisted in Bury St. Edmunds.
Warlincourt Halte Military Cemetery was used from June 1916 to May 1917 by the 20th and 43rd Casualty Clearing Stations. William was in the same battalion as William Largent (a relative) and died the day after him. It seems most likely that William Nice was injured in the previous day's Cherisy attack (link below) and died at one of the Casualty Clearing Stations at Warlincourt, which were only about 17-18 miles away across country.
At Cherisy on the 3rd May 1917 the left of the 14th Division were halted by machine gun fire coming from Triangle Wood. The East Surrey's had crossed the River Sensée by mid-morning. It appears that the attack as a whole was a failure, no ground having been won and kept at the end of the day. Casualties that day for the 8th East Surrey amounted to 13 officers and 381 other ranks of which 99 were killed or missing. Only three have identified graves.
An extract from the 8th Batallion East Surrey Regiment's action at Cherisy 3rd May 1917 can be fund here. This is the same battle that William Largent died in with The East Surreys.
William was awarded the 1915 Star, British and the Victory Medals.
William's CWGC Commemorative Certificate can be seen here.