Phoebe Dewing was the daughter of the Revd. Richard Standly Dewing and his wife Dorothea née Pettiward (known colloquially as Dora). She was also sister to Robert, Richard (Dick) and Maurice who all lived at The Rectory in Badwell.
Phoebe served in WW1 as Volunteer to the Red Cross.  The various County branches of the Red Cross had their own groups of volunteers that were called Voluntary Aid Detachments (often abbreviated to VAD). Voluntary Aid Detachment members themselves became known simply as 'VADs'. Made up of both men and women, the VADs carried out a range of voluntary positions including nursing.
Phoebe was born in 1893 in North Weald Bassett, Essex where here parents Richard Standly and Dorothea lived and where her father was the vicar of the parish church St. Andrews. In the 1901 Census she is shown as an 8 year old still living in North Weald with her parents and her brother Maurice who was 4 years old.
By the 1911 Census, Phoebe, now aged 18 and her father had moved to Badwell Ash and were living in what is now known as The Old Vicarage.  Her mother is not mentioned as she had died some 9 years earlier on 21st February 1902.  We do have a photograph of Phoebe taken in 1907 where aged 14, she is shown with her cousins.  Phoebe is 2nd left.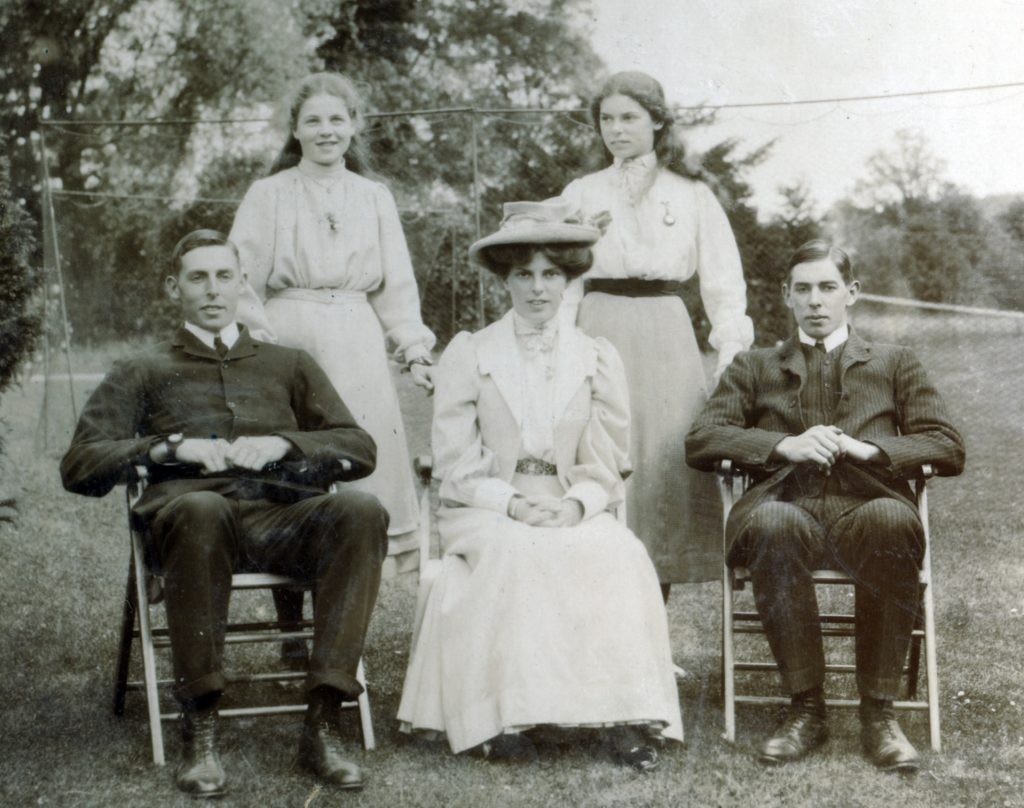 Phoebe volunteered for as a War Volunteer with the Red Cross on the 11th October 1915 and was given the rank of Commandant. She had previously been a volunteer with the Suffolk Red Cross having first volunteered on the 4th March 1913.  Her record card tells us that she worked at Presteigne Hospital in Radnorshire (now part of Powys) between October 1915 and June 1916; Finborough Red Cross Hospital between August 1916 and February 1917 and finally Broadwater Hospital, Ipswich for a brief period in April 1918.  She left the Red Cross on the 9th June 1918.
A copy of her record card can be seen here:
The next reference we have for Phoebe is in the 1939 Register where she is shown living in Bury House, Warminster as a lady of private means with Marguerite Nunn, also of private means and her daughter Gertrude Nunn, a teacher.
Phoebe died on the 8th November 1971 aged 78.  In the Probate Register she is shown as living in Bailbrook House, London Road, Batheaston (nr. Bath), Somerset.
In 2018, The Badwell Ash History Society held an Exhibition in the village hall to commemorate the 100th anniversary of WW1.  Some members of the Dewing family attended and it was subsequently arranged for them to view The Old Rectory where Phoebe lived.  Later, one of Phoebe's relatives, Sally Jeffery forwarded a collection of letters written by family and friends to Phoebe Dewing.  She also provided a brief commentary on Phoebe amongst which was this comment:
In 1927 Phoebe suffered a breakdown and entered a psychiatric nursing home. Throughout her young life she had endured the loss, one after another, of most of the people who loved her and on whom she depended. In addition she had been required, in many respects, to take the place of her mother in her father's life. It is little wonder that the weight on her became more than she could bear. Although later on she lived for long periods in the household of one or other of her surviving brothers, by the time of her death her mental distress had quite overwhelmed her.
Sally has also confirmed that Phoebe never married and she adds: Being the only daughter of a widowed father, she stayed home to keep house for him, apart from a few months at Presteigne during the war. From 1919 she also cared for her orphaned nieces (Robert's children). 
Robert was a Lt. Col in the 8th Battalion, Royal Berkshire Regiment and was killed in action at the Battle of Avre on 4th April 1918.  His wife Ruby died in the influenza epidemic on 21st April, 1919. They had two daughters, the eldest of whom was only 22 months when Ruby died.