On The Roll of Honour
Sidney was born in Badwell Ash in 1893/4. His parents were Harry, aged 29 and Martha Wilding (née Smith) aged 26.
In the 1901 Census, Sidney was aged 7,living at White Horse Yard, Badwell Ash with his father Harry, aged 37, his mother, aged 34, and his brothers Walter, aged 11 and Arthur, aged 9. His father was described as being a 'Farm Yardman' whilst Sidney and his brothers were all 'Farm Servants'.
In the 1911 Census, the family was still at White Horse Yard. By this time, Sidney's father was 47, his mother, 44 and also present in the house were his brothers Walter, aged 21 and Frederick aged 20. In this census all the boys and their father were described as being Farm Labourers.
Military and War: Sidney signed up for the army on 7th September 1914 in Bury St Edmunds at the age of 21. He enlisted in the Suffolk Regiment and was posted as Private No 79375 to the 8th Battalion E. Surrey Regiment, Labour Corps on 10th September 1914.
On 28th July 1915 he was shown as serving in France, aged 22. Unfortunately on 2nd July 1916, probably on the 2nd day of the Battle of The Somme, he received gunshot wounds to his right leg and arm which resulted in a compound fracture of the femur. On 18th January 1917, at the age of 23 he was transferred to the 29th Works Company, the Middlesex Regiment, which had been formed at Mill Hill on 29th June 1916. By March 1917, this Company had been relocated to Thetford, Norfolk. In April 1917 it had been transferred to the Labour Corps as the 5th Labour Battalion. On 24th August 1917 Sidney, now aged 24, was transferred to the 337 (Home Service) Works Company.
By 21st May 1918, still age 24, he was discharged under Kings Regulations (para 392 – xvi-a) as surplus to military requirements. He was awarded the Star, War, Victory Medals and Silver War Badge and his Medal Roll can be seen here.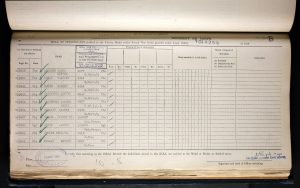 Sidney's younger brothers, Arthur Frederick and Walter, fought in WW1. Albert was a Private in the 7th Battalion Suffolk Regiment and was Killed in Action on Wednesday, 27th March 1918, aged 26 and is commemorated on the Pozieres Memorial, France, panel 25. Walter was a Private in the Northumberland Fusiliers, 25th Battalion (2nd Tyneside Irish) formerly 25082, West Yorks Regiment and was also Killed in Action on Friday, 12th October 1917. He is commemorated on the Tyne Cot Memorial, Belgium, panel 19-23 and 162.
Post War: Sidney married Eva May Green, who was born on 23rd May 1890, in Newport Pagnell, Bucks. in October 1918, aged 25. By October 1920 they were living at Northampton Rd., Lavendon, Olney, Bucks. In that month their son, Arthur Walter Charles was born. Five years later in December 1925 their daughter Elizabeth M (possibly 'May' after her mother?) was born.
Sidney died on 11th October 1953 age 60 whilst living at Rose Cottage, Lavendon, Bucks. In his Will Sidney is shown to have left his son, a carpenter and his son in law, James George Miller, a cabinet maker the sum of £1,399 1s 7d (£38,500 in today's money). Probate was declared on 22nd December 1953. Eva survived him by 34 years and died in Milton Keynes in January 1987 at the age of 96.