On The Roll of Honour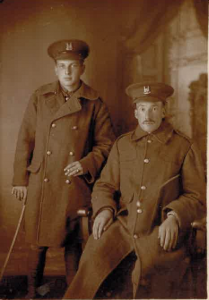 Herbert Eric Hatten Symonds was born in Badwell Ash on 1 April 10th 1899 (Stow Q2-1897 4A:851) the son of Spencer and Minnie Emmaretta Symonds (née Hatten). He lived at Shakerland Hall and was one of 5 children, the others being George Raymond (b. 1892), William Harry (b.1894), Spencer Leslie Hatten (b.1897), and Margaret (b. 1906).
In the 1901 census Herbert was aged 1 and living at Shakerland Hall with his father Spencer, aged 38, a Farmer and his mother, Minnie, aged 38 and his brother, Spencer, aged 3 and two servants, Julia Nice, aged 14 a Nurse Domestic and Zilla Bull, aged 5 a General Servant.
In the 1911 census he was living at Shakerland Hall with his father Spencer, aged 48, a Farmer and his mother, Minnie, aged 45 and his brothers, George, aged 18, Spencer, aged 13 and Herbert aged 11 and a sister, Margaret, aged 4 as well as a servant, Julia Nice, aged 24. Spencer, his brother was at Framlingham College from 1913-1915 and is on their Roll of Honour, together with his brother William Harry Symonds, who was at Framlingham from 1908-1911 and was killed in Belgium in 1915.
Military and War: Herbert joined the 3rd Northamptonshire Regiment on the 3rd June 1919 but was deemed not fit enough to serve or become an efficient soldier due to one leg being shorter than the other as the result of an accident in childhood. It's said he had been badly kicked by a horse as a child and as a result, his stride was uneven – 18" with one leg, but only 15" with the other. This meant he was unable to march in time with a unit, so the army discharged him.
Post War: In the 4th Quarter of 1931, he married (Bury St. Edmunds 4A-219) Mary L Chapman (b. Nov 18th 1910). In the 1939 register, he is shown as living at Shakerland Hall, aged 40, a Farmer, with Mary, aged 29.
Herbert died on March 21st 1985 at Newmarket Hospital aged 86. In his Obituary Notice in the Bury Free Press it stated that: After leaving Framlingham College Mr Symonds became involved in farming for many years. In his later life he was a church warden and a Governor of Badwell Ash Village School. Gardening was his favourite hobby. He is survived by a son and three daughters, Margaret, Jill and Betty.