On The Roll of Honour
George was born in 1885 in Felsted, Essex.
Unfortunately, we have not been able to find evidence of George's whereabouts in the 1891 and 1901 census returns.
In the 1911 Census: It is here that we discover his connection with Badwell Ash because by 1911 he was married to Lily Margaret Swallow née Lynn whose father was the village baker, Nelson Lynn.  Lily and George were married in the 2nd Qtr. Of 1908 (Stow 4A-1581).   Lily, who was born in Qtr. 1 of 1887 (Stow 4A-717) was the younger sister of Walter Lynn who also fought in WW1. George was 26 and an Assistant Superintendent for the Prudential Life Assurance Company (Kellys Directory 1911). His wife was 24 and they lived in Surrey at "St Osyth", Goldsworthy Road, Woking with their 1 year old son, George Nelson Lynn Swallow. He had been born in the previous year in Smallfield, Horley, Surrey.
Military and War. In 1914, when George was 29, the New War Office Staff (formed presumably to respond to the start of World War One) proposed to raise a number of Anti-Aircraft Sections, which would officially be Companies of the Royal Garrison Artillery. The target was to raise one section for each of the Divisions going to France. George was therefore enrolled in the Anti-Aircraft Corps, Royal Garrison Artillery as a Gunner, Regimental No. 82560 and presumably this was for the duration of the war. He received the Victory and War medals. His Medal Roll can be seen here.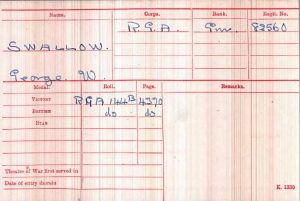 Post War: After the War, he and Lily had 2 more children (Trathan Glyn Family Tree – Ancestry): Kathleen Dulcie Swallow, born on 18th December 1918 in Chertsey, Surrey who lived until 1985, and Joan who was born in 1934 and died in 1974.
In the 1939 register, George and Lily, 58 and 56 respectively, were living in Oakfields Road, Reigate, Surrey. George is described as an Assurance Superintendent.
George died on 3rd September 1952 in Surrey at the age of 67 having been married for 44 years to Lily who died in December 1985 at the age of 87.
In his Will, George left everything to Lily, some £1,554 6s 6d (£46,500 today). Probate was given on 15th October 1952.