On The Roll of Honour
Bertram was born in Q2 in the Stow District in 1897 to George and Matilda Pollard Morley (née Hayward) in Badwell Ash.
In the 1901 census Bertram is shown living at 85 Darfield Road, Crofton Park, Brockley, SE London with his father George, a house painter aged 39 and Matilda Pollard, his mother aged 40 with no siblings.
In the 1911 census he was still living with his parents, now aged 14 and still at 85 Darfield Road, Crofton Park, Brockley. His father's profession is now described as being a Horticultural Painter.
Military and War: Bertram served in 9th Service Battalion Suffolk Regiment, Regimental No. 43893. He also served in the 3/5th (Regimental no. 4362) and 11th Battalion Suffolk Regiment. He did one years' service and was with the Field Force for only 7 months. He was transferred from the sick convoy on the 28th April 1917 and discharged back to duty on the 30th May 1917. It seems he was suffering from Neurasthenia (an ill-defined medical condition characterized by lassitude, fatigue, headache, and irritability, associated chiefly with emotional disturbance – OED). It would appear that according to the Medical Records he was sent to the No. 4 Stationary Hospital at Arques, nr. St. Omer, Pas de Calais between the 27th April 1917 and the 4th May1917.
He was awarded the Victory and British Medal and his Medal Roll can be seen here…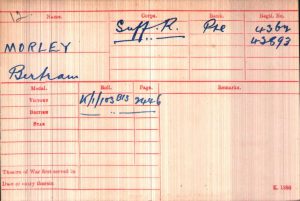 Post War: There's a report in the Bury Free Press February 7th 1920 of a Hearing at Thingoe Petty Sessions entitled "No Rear Lights". It stated:   "Bertram Morley, Labourer of Badwell Ash was summoned for riding a bicycle without a lighted red rear lamp at 10.20pm at Great Barton on January 24th. The defendant did not appear. PC Briggs stated the case. Fined 2s 6d" (£6.50 today).
In March 1923 he married Lilian Minnie Davidson (1896-1985) (Stow 4A-1409) and they had one child, Irene Janet Morley who was born in 1923 and died in 1995, along with her sisters, Joan Carol and Joyce Rosina.
In the 1939 census Bertram is shown as living in 27 White Hart Street, Thetford in what appears to be a lodging house (with no sign of Lilian) and working as a Carpenter.
Bertram died 4th July 1950 aged 53 in Bury St. Edmunds but immediately prior to this he was living in Heath Road, Ixworth. In the Probate register it is recorded he left £1,312 18s 2d to his wife. (£45,000 in today's money).