Charles was born in the first Quarter of 1880 in the Stow District to Walter and Jane Redit née Eslick, who lived at Long Thurlow.
In the 1881 census, Charles was 1 year old, living with his father, Walter, aged 31, who was born in Badwell Ash, a Blacksmith and his mother, Jane, aged 34 (who was born in St. Jane, Cornwall) and 4 siblings, Herbert, aged 10, Jane, aged 8, Christina, aged 5 and Lotty aged 3, all born in Badwell Ash.
In the 1891 census, Charles was no longer living with his family in Badwell Green.
In the 1901 census Charles, now aged 21 and working as a Blacksmith is living with his brother and sister-in-law, Charles, aged 28 and Mary Durnford, aged 28 and their daughter, Edith, aged 3 at 38, Lydford Road, Paddington
On December 26th 1904, Charles married Alice Caroline Terrington, aged 26, a Spinster. Charles is described in the marriage certificate as a "Farmer" and they both appeared to be living at the same address, 142 Bathurst Gardens, Kensal Rise, London, N W.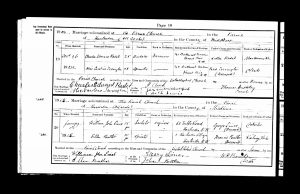 In the 1911 census, Charles, now aged 31, was living with his wife, Alice, aged 32 in The Forge, Kingston Road, Ewell and was a Blacksmith. They had two daughters, Hilda, aged 3 and Alice, aged 2 and a Boarder, Ian Coombs who is also a Blacksmith.
Military and War: Charles enlisted on 30th October 1914 in London. In his Short Service Attestation  he is described as a "Shoeing Smith". A "Shoeing Smith" was a blacksmith who made and fitted shoes on horses used by The Royal Field Artillery. He joined the 51st Brigade Royal Field Artillery with the rank of Corporal Regimental No.15530 as a "Shoeing Smith" and was paid 5/- per day. He served in France from 10th May 1915 until 18th September 1919 but was transferred to the Reserve on the 16th June 1919.
He was awarded The Victory, British and Star Medals. His Medal Roll can be seen here.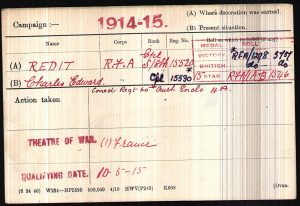 In the 1939 register he is shown as living at The Forge, Long Thurlow near. The Thurlow Arms with Alice aged 60 and 61 respectively, where he is described as a Master Blacksmith.
Charles died in the 1st Quarter 1942 in Bury St. Edmunds, aged 62. There was an announcement in The Free Post and Star dated January 10th 1942 which simply states – "Redit – January 4th at Great Ashfield, Charles Redit aged 62 years".