Walter was born on the 8th May 1869 and baptized on the 13th June 1869 (Buckle Family Tree).
In the 1871 census, Walter was aged 6 months, living with his mother Maria Smith aged 32 who is a widow and a sister, Julia, aged 4 in The Street, Badwell Ash. Interestingly, the previous entry in the census is for John Buckle who is aged 56 and an agricultural labourer and Hannah, his wife, aged 64. In the census, both Walter and Julia are described as grandchildren and Maria as a daughter so we assume that although they are separate entries in the census Walter, his sister and mother were living with Grandma and Grandad as Maria's husband had passed away.
In the 1881 census Walter was now 11 and is living with his sister, Julia, who was now aged 14, in The "High" Street, Badwell Ash with his grandfather John Buckle now aged 75 still an agricultural labourer and Hannah, his wife and Walter's grandmother now aged 54.
In the 1891 census Walter was now 20 and an agricultural labourer and is still living with his grandfather, John Buckle, still an agricultural labourer at aged 78! and his mother Maria, John's daughter who was now aged 50 and a charwoman.
Walter married Elizabeth (née Miller) Smith in the 1st Quarter of 1894 in the Bury St. Edmunds District. Elizabeth was born in Shippea Hill, to the east of Ely, Cambridgeshire. They had 3 children, Lily, born 17th December 1899, Violet born 2nd September 1901 and Nora, born 4th March 1904. Lily and Violet's births were registered in Quetta, India and Nora's in Karachi, India (now Pakistan).
In the 1911 census, Walter was the Landlord of The Anchor, 123 Northgate Street, Bury St Edmunds aged 43 and described as an Inn Keeper and Army Pensioner. He was living with his wife, Elizabeth, aged 40.
The Anchor P.H. was demolished after being bombed in 1915. It stood in Northgate Street, opposite Looms Lane. The premises were opened in 1860. In the "History of Suffolk" website the following landlords are quoted; 1888 Charles Tipple, Beer Retailer, 1900 Frank Pawsey, Beer Retailer and 1912 Walter Smith.
Military and War: Walter was a "Professional Soldier" serving a total of 26 years in the army. His 1883 Service Record states that he joined as a Private, was promoted to Lance Corporal in 20th April 1887, then to Corporal in April 1888 and finally to Company Sergeant in the 11th Battalion Suffolk Regiment. No: 549, on 30th March 1901.
He was sent to India in 1885 until March 1892 when he returned to England. In 1896 he was again sent to India for a period of 8 years and returned to England in 1904. From his medical record, he was treated for syphilis and enteric fever (typhoid) whilst in India. He was awarded the India Medal and Hazara Clasp 1888 as well as the Army Long Service and Good Conduct medal. (Suffolk Regimental Museum, Bury St. Edmunds).
In his 1914 Service Record and Pension Record dated 1st October 1914, it was stated that Walter was 47 years old and a Blacksmith and had previously served in The Suffolk Regiment for 21 years 205 days. He served with the British Expeditionary Force in France from January 1916 to March 2017. He was promoted to Company Sergeant Major, Warrant Officer 2nd Class No. 3/10262 on the 15th October 1914, only two weeks after he re-enlisted. He was finally demobilised on 16th December 1919.
Walter was awarded the Victory Medal and his Medal Roll can be seen here.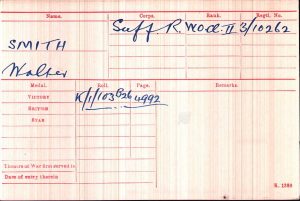 Post War: Very little is known of his and Elizabeth's post war life but we do know that Walter died on the 5th March 1954 in Walnut Tree Hospital, Sudbury aged 85. His address was given as Arlington House, Cornard Road, Sudbury and he was described on his death certificate as a Retired Colour Sergeant, Suffolk Regiment. His death was registered by his daughter Lily Power.