On The Roll of Honour
Thomas was born on Nov 12th 1880 in Old Newton.
Thomas married Edith Emma Hughes (some doubt about this maiden name) at Fornham St Martin in January 1903. They had 4 daughters: Agnes, Audrey, Lilian and Margery.
In the 1911 census Thomas, aged 30, was a Domestic Groom (private) living at The Street Fornham St Martin with his wife Edith Emma, and their 4 daughters, Agnes Elsie aged 8, Audrey Ada aged 7, Lillian Iris aged 5 and Margery aged 2.
Military and War: Thomas served in the 10th Battalion Suffolk Regiment, Regimental no. 33549 and 12th Battalion Royal Irish Rifles, Regimental no.. 41439. He was in the army for 5 years and was awarded the Military Medal, Victory and War medals.  His Medal Roll can be seen here.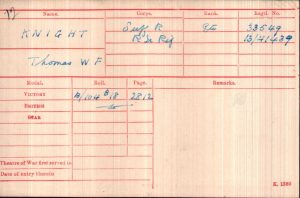 The Military Medal is awarded for gallantry and a report in The Times on the 20th March 1919 stated: "The military decoration was awarded to T F W Knight for acts of gallantry and devotion to duty under fire or for the individual or associated acts of bravery which were insufficient to merit the Distinguished Service Medal".
Conferment of the medal was also announced in the London Gazette and T. F. W Knight earned the right to add the letters M.M. to his name. Gazette issue 31338. Military Medal; Awarded for bravery in the Field. Gazette Date and Page: 13/05/1919 – 6042. Regiment: 12th Battalion, Royal Irish Rifles (Forces War Records).
Post War: In the 1939 census Thomas lived in Long Thurlow and is described as a Chauffeur (Private) and a Special Constable with Edith (b. 29th Feb 1880) who is described as doing "Unpaid Domestic Duties".
Thomas died in September 1968 aged 87. (Suffolk 4b-977)