On The Roll of Honour
Eldred was born on 2nd May 1897 in Hunston. His parents were George, aged 33 and Sarah Anne Rose (née Smith) aged 27.
In the 1901 Census, Eldred was aged 4, living in Westley Way, Hunston with his mother Sarah, aged 31, who was a Laundress; his paternal grandfather Robert, aged 73, sisters Ellen, aged 13, and Alice, aged 6, brothers George, aged 10, Ephraim, aged 8 and Arthur, aged 2.
In the 1911 Census, Eldred was aged 14 and working as a Farm Labourer and living in White Horse Yard, Badwell Ash, with his father George, aged 47, mother Sarah, aged 41, sister Ellen, aged 21 and a General Servant, brothers George, aged 20 and Ephraim, aged 18 – both of whom were Farm Labourers, sister Alice, aged 16 and a General Servant whilst Arthur, aged 12, Florence, aged 10 and Reginald, aged 8 were all at school.
Military and War: Eldred, whose two brothers, Arthur and George William both served in WW1, enlisted on 24th June 1916 in the 14th Battalion Yorkshire Regiment as Private 241727 (later 4311) and was discharged on 10th May 1917 . When he was discharged it was of wounds received whilst fighting. Regulation AO265/17 2(b) (i) which states "…discharged after service overseas…..on account of disablement or ill health caused otherwise than by misconduct". There's no record of the precise reasons for his discharge.
He was awarded a Silver War Badge, No. 399677 on 8th June 1918. This was primarily issued to service personnel who had been honourably discharged due to wounds or sickness from military service in WWI. A secondary reason for its introduction was that a practice had developed in the early years of the war in the United Kingdom where some women took it upon themselves to confront and publicly embarrass men of fighting age they saw in public places who were not in military uniform, by ostentatiously presenting them with white feathers, as a suggestion of cowardice. As the war had developed substantial numbers of servicemen who had been discharged from His Majesty's Forces with wounds that rendered them unfit for war service, but which were not obvious from their outward appearance, found themselves being harassed in such a manner and the badge, to be worn on the right breast while in civilian dress, was a means of discouraging such incidents being directed at ex-forces personnel.
His Medal Roll can be seen here.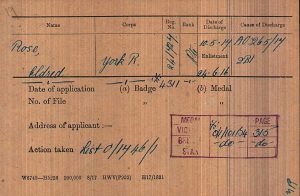 Post war: He married Sarah Meekings in October 1922 in the Stow Registration. She came from Newbourne, Suffolk.
Eldred died in July 1972 in Bury St Edmunds (age 75) having lived at the time of his death at 5, Back Lane, Badwell Ash. Nine years later, in December 1981, his wife Sarah, died also in Bury St Edmunds, aged 79. The two of them are reunited and buried together in the Richer Road Cemetery in Badwell Ash in row 12, plot 15.