On The Roll of Honour
Harry was born on 12th June 1898 in Badwell Ash. His father, Arthur was 27 and his mother, Fanny 24.
In the 1901 Census Harry was aged 2 and living in Badwell Ash with his father, aged 29 and mother, aged 26, together with his brother Leonard, aged 5 months, who died in 1905. His father's occupation was described as a Farm Yardman – Cattle.
In the 1911 Census now aged 12 and living in The Street, Badwell Ash. His father was 40 and described as a Cowman. His mother was 38 but this doesn't fit with her age of 26 in 1901. Quite often though, incorrect ages were either given or mistakenly inserted by the enumerators in Census Returns. By this time he had 2 brothers: Bertie, aged 7 and Willie, aged 2.
Military Record: Harry enlisted late in the war – on 18th February 1918 – in Ipswich as Gunner 198498 in the Royal Garrison Artillery. In his Service Record he is shown as living in The Street, Badwell Ash. He was immediately transferred to France because by this time the losses were so great that soldiers were desperately needed as soon as they became available.
On 6th February 1919, at the age of 20, he was discharged from the army under King's Regulations Paragraph 392 [xvi] as he was no longer fit to serve. As it is, his war was relatively short because it had finished on 11th November 1918. He had a gunshot wound (presumably before this date) to his right side and as a result he lost his right hand and eye and his service record describes him as having 100% disablement. He was awarded the Silver War Badge (no: B113011) as well the War and Victory medals.
Post War: Harry married Daisy Mary Mingay in June 1921 and they had 7 children in 12 years. She came from Pakenham and had been born in 1896. She died in 1970. They had been married for 49 years.
He died 2 years later on 14th August 1972 at the age of 74. He is buried in St Andrew's Churchyard, Norton.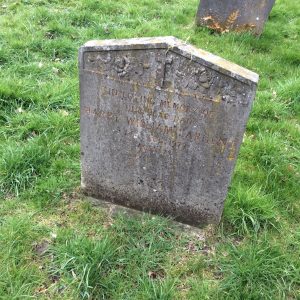 ---
There's a report in the The Suffolk and Essex Free Press dated Thursday December 13th 1923 of an application being made for a possession order by Mr. Le Grice against Harry Largent. The order was due to expire on January 9th but it seems Harry had made no effort to leave. It was said the cottage was required by Mr. Le Grice to house a horseman in Mr. Grice's employ. It seems Harry Largent was unemployed, not surprising given his disability, but notwithstanding, the court gave Mr. Le Grice possession of the property within the month and Harry Largent was ordered to leave.
Records suggest that they had lived in Norton village for most of their married lives because there are references in both 1922 and 1939 to this being their village of occupation. In the former year their house was in Stanton Street, Norton.