On The Roll of Honour
Arthur was born in 1871 in Pakenham. His father, Arthur David was 22 as was his mother, Emma Maria Fuller née Baker. Arthur David Gardiner was born in 1848 and died in 1934. He married Emma Maria Baker, who was born in 1849 and died in 1922. They had five children: Arthur James (1871-1920), William John (1875-1949), Harry James (1877-1932), Herbert (1882-1914) and Ethel Maria (1888-1953).
In the 1871 Census: Arthur lived at Barton Mere Cottage in Pakenham and was 2 months old.
In the 1881 Census Arthur was, by this time, aged 10 and the family had moved to Beck Street, Hepworth.
In the 1891 Census he lived in Church Street, Woodbridge where, at the age of 20, he was a Domestic Servant for Elphinstone Hollis, a Physician.
In the 1901 Census now aged 30, he lived in Sharston, North Etchells, Cheshire, where as a lodger he was a Groom for George Kinsey Whitfield, a Pigeon Keeper.
In the 1911 Census he was found to be living in St John's Wood Terrace, Marylebone, London, where he was a Groom at a riding school. At some stage between the 1901 and the 1911 Census he had spent time in the North Rhine – Westphalia, Germany although the purpose of this visit is not stated.
Military and War: In April 1915 he served in the Army Veterinary Corps where he initially looked after horses but later also pigeons, maybe a product of his stay in Cheshire with George Whitfield the pigeon keeper?
On 11th April 1915 at the age of 44 he was transferred to the Balkans. This was possibly for the Gallipoli Campaign which started 2 weeks later on 25th April.   He was awarded the War and Victory medals. His Medal Roll (not confirmed) can be seen here.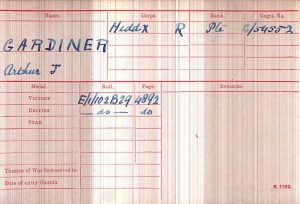 Post War: Sadly, Arthur died in July 1920 of stomach cancer. His family thought that this might have resulted from a kick received from a mule at the end of the war. He suffered from this injury for 2 years before succumbing to it whilst in a Military Hospital in Bury St Edmunds.
There is no record of Arthur having married.