On The Roll of Honour
William was born in Badwell Ash on 13 January 1897.
In the 1901 census, William was aged 4 and living in Long Thurlow with his father, Arthur (b. Badwell Ash), aged 38, an labourer on farm and his mother, Ellen Harriet, aged 36 (b. Honnington), Arthur's mother Fanny, aged 77 (b. Langham) and a boarder Robert Burch aged 20 (b. Wyverstone) who was an agricultural labourer.
In the 1911 census, William was now aged 14, a grocer's porter and still living in Long Thurlow with his father, Arthur, aged 27, an agricultural labourer and his mother, Ellen H, aged 26 and his four sisters Libby Ellen, aged 9, Daisy Francis, aged 7, Nellie Violet, aged 4 and Florence Rose, aged 1, all born in Badwell Ash.
Military and War: William was gunner in the Royal Garrison Artillery Regimental No. 209924. He was awarded the War and Victory medals. His Medal Roll can be seen here.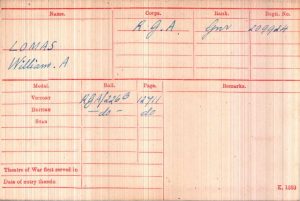 Unfortunately, no other record details have been located. It is highly possible that William's records have been destroyed. In September 1940, as the result of a fire caused by an incendiary bomb at the War Office Record Store in Arnside Street, London, approximately two thirds of 6.5 million soldiers' documents for the First World War were destroyed. Those records which survived were mostly charred or water damaged and unfit for consultation and became known as the 'burnt documents'.
In the 1939 register, William, now aged 42 and Ada, his wife, who was born on the 18th September 1895 (44) are living at 2 Cardinalls Road, Stowmarket with Lily Lomas (their spelling!) aged 15, a kitchen maid and Doris, aged 13 who is described as incapacitated.
Ellen died on the 14th July 1964 and is buried in Richer Road cemetery, Row 12, Plot 9 and William died in Ipswich on 2 March 1986.