On The Roll of Honour
Died in WW1 and commemorated in Tony Pringle's book "Lest We Forget"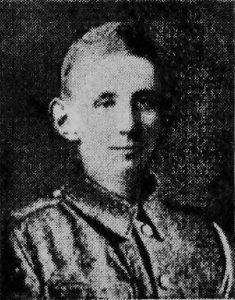 Aged 21
No. 12059, Private, Suffolk Regiment, 2nd Battalion formerly 3772 Northumberland Fusiliers.
Killed in Action on Wednesday, 16th June 1915.
Harry William Symonds is commemorated on the Menin Gate, Ypres panel 21 and also on the Roll of Honour at Framlingham College .
Harry was born in Badwell Ash in 1894 (Stow Q2-1894 4A:763) son of Spencer and Minnie Emmaretta Symonds (née Hatten). He lived at Shakerland Hall and was one of 5 children, the others being George Raymond (b. 1892), Herbert Eric (b.1899), Spencer Leslie Hatten (b.1897), and Margaret (b. 1906).
In the 1901 census…Possibly he was the Harry Symonds aged 6 (born Bury St. Edmunds) who was at 84 New Cut West, St Peters, Ipswich with Nina White, a teacher of Elocution. Also, there was Ray Symonds, aged 8 who may have been his brother George Raymond; there being a tendency for families to use the second given name for the sons. His father, Spencer Symonds , aged 38, a farmer who was born in Rickinghall; his mother Minnie, aged 35, born in Walsham le Willows and brothers Spencer L, aged 3 and Herbert Eric, aged 1 both born in Badwell Ash, were at Shackerland Hall, Badwell Ash.
In the 1911 census Harry was aged 16, born Stowmarket and was at Framlingham College, Framlingham. His parents were in Badwell Ash with his brothers George, a Farmer's son working on farm and Spencer, a scholar and Herbert, aged 11 and also a sister Margaret, aged 4 born in Badwell Ash. Harry William was at Framlingham College from 1908-1911 and is on their Roll of Honour, together with his brother Spencer Lester Hatten Symonds, who was at Framlingham from 1913-15 and was killed in the Royal Flying Corps in 1917.
Military and War: He enlisted first in Newcastle upon Tyne in the Northumberland Fusiliers, Regimental No. 3772 in February 1914. At the time it was recorded in his Service Record that he appeared to be around 16 or 17 years old, not the 19 years 272 days that he alleged. That was on 9th February 1914. He attested as a farmer's son from Badwell Ash, Suffolk, height 5′ 11.3″, weight 138.5 lbs, chest 38″ expanding by 3", grey eyes and light brown hair. In addition to doubts about his age, it was stated that he had defective teeth and that he was unlikely to make an efficient soldier and quoted Kings Regulations Para 392 (iii)(c) which gives exactly that, (unlikely to make an efficient soldier). So it was off back home for Harry on 9th April 1914.
At that time there was concern about the number of volunteers being rejected due to defective teeth when dental treatment could have rendered them fit for service, and later regulations were put in place to arrange for such treatment to be set in place.
Undeterred he went on later to enlist successfully in the 2nd Battalion Suffolk Regiment when war broke out.
His entry in De Ruvigny's Roll of Honour reads :- "SYMONDS, WILLIAM HARRY, Private, No. 12059, 2nd Battalion Suffolk Regt., 2nd s. of Spencer SYMONDS, of Badwell Ash, Bury St. Edmunds, Farmer, by his wife, Minnie, dau. of the late William Green HATTEN, of Walsham-le-Willows; b. Badwell Ash, 13 May 1894; educ. Albert College, Framlingham; enlisted on the outbreak of war, served with his regt. In France and Flanders, and was killed in action at the battle of Hooge, 16 June, 1915; buried there in Sanctuary Wood. A brass tablet has been erected to his memory in the Parish Church at Badwell Ash."
He was awarded the 1914/15 Star Medal, the Victory Medal and The WW1 memorial Plaque (The Dead Man's Penny) (Suffolk Regimental Museum, Bury St. Edmunds).
 The 5th Corps, the 3rd Division attacked Bellewaarde Farm, Y Wood and the trench system between them to the East of Ypres on the 16th June 1915. The leading troops got forward so quickly they came under fire from our own guns. The 2nd Suffolks were being held in reserve and came in on the back end of the battle. At nightfall "B" Company was told off to dig a trench linking Y Wood with an adjacent culvert on the Menin Road. They had their first taste of gas shells but completed their task before day-break. They then spent 4 days consolidating the line and the gruesome task of clearing up the battle field. On the 16th, the battalion had 5 men killed; none have an identified grave which is why Harry William is commemorated on the Menin Gate.
The Menin Gate: The Menin Gate is one of four memorials to the missing in Belgian Flanders which cover the area known as the Ypres Salient. Broadly speaking, the Salient stretched from Langemarck in the north to the northern edge in Ploegsteert Wood in the south, but it varied in area and shape throughout the war.
The site of the Menin Gate was chosen because of the hundreds of thousands of men who passed through it on their way to the battlefields. It commemorates casualties from the forces of Australia, Canada, India, South Africa and United Kingdom who died in the Salient but, in the case of United Kingdom casualties, only those prior 16 August 1917 (with some exceptions). United Kingdom and New Zealand servicemen who died after that date are named on the memorial at Tyne Cot, a site which marks the furthest point reached by Commonwealth forces in Belgium until nearly the end of the war. New Zealand casualties that died prior to 16 August 1917 are commemorated on memorials at Buttes New British Cemetery and Messines Ridge British Cemetery.
The Ypres (Menin Gate) Memorial now bears the names of more than 54,000 officers and men whose graves are not known. The memorial, designed by Sir Reginald Blomfield with sculpture by Sir William Reid-Dick, was unveiled by Lord Plumer on 24 July 1927.
(© http://www.interment.net/data/bel/menin-gate-memorial/index.htm)