Norma was born in 1st Quarter 1898 in Malton, North Riding of Yorkshire to Robert Walter and Elizabeth Stevenson (née Hunter) Shield.
In the 1901 census, Norman, aged 3, was living in 16 Laura Street, Sunderland with his father, Robert, aged 36, a Shopkeeper and his mother, Elizabeth, aged 36 and a brother, Walter, aged 5. They also had a "live-in" servant, Isabelle McAdams described as a "Housemaid Domestic".
In the 1911 census, Norman was now 13 and living in Heddon Bank Farm, Heddon on the Wall, Northumberland with his father, described as R.W.Shield, a farmer, aged 46, his brother, W.C. Shield, now aged 15 and described as "working on the farm", a sister, Hilda, aged 9, and a nephew, aged 17, described as "a Waggoner and working on the farm". They had two servants, Elizabeth Mitchell, aged 18 and Evelyn Anderson, aged 16.
Military and War: Norman enlisted with the East Yorkshire Regiment as a Private, Regimental No. 56817 and was awarded the British and Victory Medals. His Medal Roll can be seen here.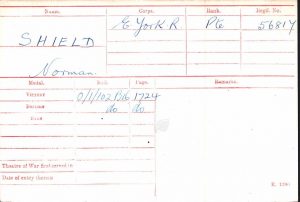 Unfortunately, no other record details have been located. It is highly possible that Norman's records have been destroyed. In September 1940, as the result of a fire caused by an incendiary bomb at the War Office Record Store in Arnside Street, London, approximately two thirds of 6.5 million soldiers' documents for the First World War were destroyed. Those records which survived were mostly charred or water damaged and unfit for consultation and became known as the 'burnt documents'.
Post War: Norman followed his father as a farmer in Northumberland and moved to Badwell Ash Hall in 1929. He also was married in 1929, on the 10th March, at Heddon on the Wall to Kathleen Mary Hunter who was 29 at the time.
In the 1939 register, Norman is shown as living in The Hall, Badwell Ash, aged 42 with his wife, Kathleen, aged 40. Norman is described as a Stock and Arable Farmer and an A.R.P. Warden. He was also a Platoon Commander of The Home Guard during WW2 and a Suffolk Branch member of the National Farmers Union.
Norman died on the 14th March 1987 aged 89 at The Royal Oak House, Wattisfield, Diss. The funeral took place in St. Margaret's, Wattisfield on March 9th. He was interred at Badwell Ash in the Richer Road cemetery, Row 13, Plot 13. Kathleen pre-deceased him on 8th November 1974, aged 74 and is buried in the same plot.