On The Roll of Honour
Walter was born in October 1885 in Badwell Ash. His father, Nelson, was 31 as was his mother, Harriet (neé Boughton).
In the 1891 Census: Walter was aged 6, and lived in Badwell Ash in "The Bake Office" with Nelson, his father (listed as age 42 but this doesn't square with his age when Walter was born. It could be simply an error on the part of the enumerator) The village Baker Harriet, his mother, was 40. She came from Great Ashfield. Also in the house were brother, Nelson, aged 14, a Grocer's Apprentice; Annie, aged 10, Ernest, aged 8, Lily aged 4, Mabel aged 2, and a General Servant, Ada Pryke from Coombs, Stowmarket.
In the 1901 Census: Now aged 16 Walter, as a Baker, had followed in his father's footsteps. His father was still the village Baker. Also still at home were his sister Annie, aged 20, his brother, Ernest, aged 18, a Butcher; and his young sister Lily, aged 14.
On the 5th August 1902, it was reported in the Evening Star and Daily Herald that at Ixworth Petty session, Edwin Star and engine fitter was charged with assault on Walter Lynn by Mr. Mudd's corner (Mr. Mudd lived in Parkers Farmhouse). Simms was accused of striking Lynn behind the left ear without provocation and without being drunk. Case was proven and Simms was fined 4s 6d.
In the 1911 Census: Little is found here except that by this time Walter was aged 26, was a Baker and still living with his father, Nelson, who was the village Baker.
On 14th January 1911 in The Bury Free Press it was reported that an application for an Affiliation Order was made against Walter Lynn, baker of Badwell Ash by Sarah Ann Wales, also of Badwell Ash. The order was dismissed (Note: an Affiliation Order is a legal order that the man judged to be the father of an illegitimate child must help to support it.)   In the same year Walter married Flora Reeve on the 18th April 1911 at Thorpe le Soken.
The Records for 1912 to 1915 for The North-Western or Stowmarket Division of Suffolk of the Ownership Electors for Ashfield Magna, show Walter Gibson Lynn as being a freeholder of a house and land in Elmswell Road, Ashfield Magna occupied by a Stella Bevan.
Military and War: Walter was enlisted as a Private Regimental No. 56711 on 26th May 1917 in the 4th West Yorkshire Regiment. This was quite late in the war and might reflect his age (33) and that by this time, the Government was getting desperate for men because of the enormous number of casualties and, as a result, they had to call on older men. He was awarded the Victory Medal.
Two years later on the 29th May 1919, he was discharged under King's Regulations Para 39 (xvi) because of sickness (no other information is given). By this time, of course, the war had long been finished. He was awarded the Silver War Badge No: B168879 and William's Medal Roll can be seen here.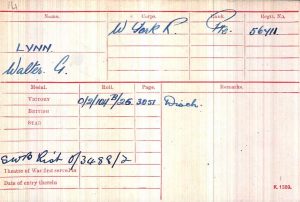 Post War: Kelly's Directory from 1927 shows Lynn, Walter Gibson as being a Baker in Great Ashfield. An extract can be seen here.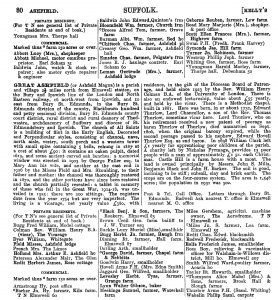 In the 1939 register, Walter, now a retired baker, is living at 298 Felixtowe Road, Ipswich with 4 other unrelated people. It also seems that Walter was married a 2nd time in the 4th Quarter of 1939 to Bertha Elliston from Ipswich. So perhaps in the 1939 Register entry he was living in rented accommodation?
He died on 11th February 1958 in Bury St Edmunds aged 74 and is buried in Great Ashfield churchyard. A photo of the grave marker can be seen here.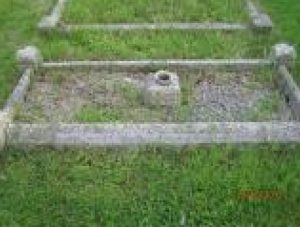 In his Will announced on 7th May 1959 he left £3,149/12/- to his sister, Mary Beatrice Pratt and a Bank Manager – presumably for dealing with his effects.