On The Roll of Honour
Edgar was born on 29th October 1896 in Norton to William and Ada who lived in The Street, Badwell Ash.
In the 1901 census, Edgar was shown as living in The Street, Norton with his father William aged 35, an Agricultural Labourer, his wife Ada, aged 26, a Laundress and a brother William, aged 5.
In the 1911 census he was shown as living at Westley, employed as farm labourer with his father William, aged 44, Ada Amelia, his mother, aged 36, 4 siblings: Leonard, aged 8, Florence Emily, aged 6, Walter Edward, aged 2 and Ada Amelia, aged 1.
Military Record: According to his Service Record, Edgar was a Private in the 3rd Battalion Suffolk Regiment with a regimental No. 18823. He enlisted on 12th April 1914 and was discharged on the 26th February 1919 (4 years 10 months) having served most of his war career in Egypt. The reason for his discharge was given as being under Paragraph 393 Kings Regulations (xvi) as he was no longer physically fit for war service. This was due to the fact that he had contracted malaria leading to debility. (Credit – Barry Largent and Suffolk Regimental Museum Bury St. Edmunds)
He was awarded the Star, War and Victory medals and the Silver war Badge. His Medal Roll can be seen here.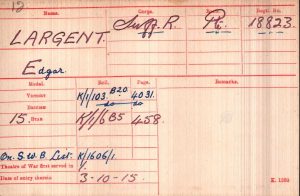 Post War: In the 1939 Register, Edgar (aged 43) is shown as living at Friars Farm, Hadleigh Urban District working as a Lorry Driver with his wife Lily, a Housewife (aged 30), with his father William, aged 72 , a Widower and Florence Andrews, aged 40, a Volunteer helper and an Evacuee.
He died in Sudbury in 1980 aged 84.