On The Roll of Honour
Died in WW1 and commemorated in Tony Pringle's book "Lest We Forget"
2nd Lieutenant, Royal Flying Corps, 7 Squadron.
Killed in Action on Monday, 12th November 1917 Aged 20.
Spencer Leslie Symonds is buried in Aeroplane Cemetery, Ypres grave 7:B:34 and commemorated on the Roll of Honour at Framlingham College.
Spencer was born in Badwell Ash in 1897 (Stow Q2-1897 4A:841) son of Spencer and Minnie Emmaretta Symonds (née Hatten). He lived at Shakerland Hall and was one of 5 children, the others being George Raymond (b. 1892), William Harry (b.1894), Herbert Eric (b. 1899) and Margaret (b. 1906).
In the 1901 census Spencer was aged 3 and living at Shackerland Hall, Badwell Ash with his father, Spencer Symonds, aged 38, a farmer born in Rickinghall, his mother Minnie, aged 35, born in Walsham le Willows and brother Herbert Eric, aged 1 born in Badwell Ash.
In the 1911 census Spencer was aged 13 and living at Shackerland Hall, Badwell Ash with his parents and his brothers George, a Farmer's son working on farm and Herbert, aged 11 and also a sister Margaret, aged 4, born in Badwell Ash. Brother William Harry Symonds was at Framlingham College. Spencer was at Framlingham College from 1913-1915 and is on their Roll of Honour, together with his brother William Harry Symonds, who was at Framlingham from 1908-1911 and was killed in Belgium in 1915.
Military and War: Spencer spent most of his war service in the Royal Flying Corps. However, as this was a fledgling service, many pilots were initially seconded to the RFC from their original regiments, which in Spencer's case from the Artists Rifles, Officer Training Corps, by becoming an observer. Some RFC ground crew (often NCOs or below) also volunteered for these flying duties as they then received supplementary flying pay. There was no formal training for observers until 1917 and many were sent on their first sortie with only a brief introduction to the aircraft from the pilot. Once certified as fully qualified the Observer was awarded the coveted half-wing brevet. Once awarded this could not be forfeited so it essentially amounted to a decoration.
From the very brief records available it appears that Spencer originally served as Private, No. 764914 in the 28th London Regiment. This was the Artists Rifles, which, as outlined above, was to go on to form an Officers Training Corps. From that he was at Oxford 25 Training Corps from 5th May 1917 until withdrawn on 13th August to attend flying instruction. He seems to have ceased instruction on 30th August and joined the Expeditionary Force in France/Flanders on 2nd October 1917.
He was posted missing and then confirmed killed on 12th November 1917. It was reported in The Great War Forum that it is believed a Lt. W.A. Sewell and 2nd Lt. S.L.H. Symonds were both Killed in Action. It seems the new pilot (Symonds) was being shown the Lines and during the day, a machine was reported to have been shot down by Anti-Aircraft fire and was seen to fall into No-Man's-Land opposite French Lines. Lieut. William Allan Sewell joined 7 Squadron RFC about the 8/9th November 1917; just 4 days later, he was killed. Lieutenant Sewell, originally in the Border Regiment, was attached to the R.F.C. and was formerly of Keeble College, Oxford. He was aged 23 and the youngest son of the Rev. T. J. and Mrs. Sewell, of Lynsted Vicarage, near Sittingbourne.
The CWGC Commemorative Certificate and Spencer's Medal Roll can be seen here.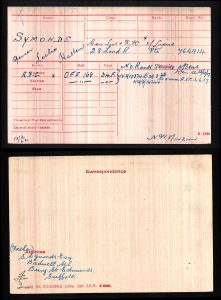 No. 7 Squadron R.F.C and The RE8.
No. 7 Squadron was formed at Farnborough Airfield on 1 May 1914. The squadron spent most of the First World War in observation and interception roles and was responsible for the first ever interception of an enemy aircraft over Britain. It deployed to France in April 1915, flying Royal Aircraft Factory R.E.5s for reconnaissance and Vickers Gunbuses as escort fighters. The squadron was re-equipped with B.E.2s in 1916, which it used for both bombing and reconnaissance during the Battle of the Somme that year. The B.E.2s were replaced by R.E.8s in July 1917, continuing in the reconnaissance role for the rest of the war, operating over Ypres in the summer and autumn of 1917 and in support of Belgium forces in the closing months of the war. It disbanded at the end of 1919.
On the 31st July 1917, the start of the 3rd Battle of Ypres, No.7 Squadron was based at Proven Airfield, some 20km west of Ypres coming under the Fifth Brigade, Fifteenth Wing, and attached to the British Fifth Army. As stated above, No. 7 squadron were equipped with the RE8s and were based at the airfield from 23 May 1917 to 12 April 1918. 
The R.E.8 was a British two-seat biplane reconnaissance and bomber aircraft of the R.F.C designed and produced at the Royal Aircraft Factory.   Intended as a replacement for the vulnerable B.E.2, the R.E.8 was widely regarded as more difficult to fly and gained a reputation in the Royal Flying Corps for being "unsafe" that was never entirely dispelled. Although eventually it gave reasonably satisfactory service, it was never an outstanding combat aircraft. Nonetheless, it remained the standard British reconnaissance and artillery observation aircraft from mid-1917 to the end of the war.
More than 4,000 R.E.8s were eventually produced. The R.E.8 was rapidly withdrawn from service after the end of the conflict, by which time it was regarded as totally obsolete.
The R.F.C and the R.A.F.
The Royal Flying Corps was formed on 13th April 1912 and was the flying arm of the British Army until 1st April 1918 when it combined with the Royal Naval Air Service to become the Royal Air Force. The junior of the three Services, the R.F.C. / R.A.F. lost 9,378 killed or missing, with 7,245 wounded from 1914 -1918.
In the 1939-45 war, the Royal Air Force lost 70,253 officers, NCOs and airmen killed or missing on operations, the overwhelming majority of them being aircrew. By far the largest share fell to Bomber Command between Sept 1939 and May 1945: 47,268. It was the unique hazard of the airman's trade that a further 8,305 Bomber Command aircrew lost their lives in non-operational flying – training or accident. In addition,1,570 ground crew (RAF and WAAF) were killed or lost their lives from other causes during that period, making a full total of 57,143.

The RAF roundel symbol  on aircraft was not adopted until the 11th December 1914. Prior to that date the Royal Flying Corps adopted the Union Jack painted on the underside of the lower wing. Whilst at low level this was adequate in enabling identification of the aircraft by ground forces, at higher altitude less of the flag was visible leading to misidentification. The roundel was adopted to make identification easier and it was simply a copy of a system used by the French Air Service with the colours reversed.