On The Roll of Honour
Died in WW1 and commemorated in Tony Pringle's book "Lest We Forget"
Aged 23 No. 39761, Private, Bedfordshire Regiment, 6th Battalion.
Killed in Action on Sunday, 7th October 1917.
Arthur Boughton is buried in Larch Wood (Railway Cutting) Cemetery, Zillebeke, Belgium Grave 5:A:2.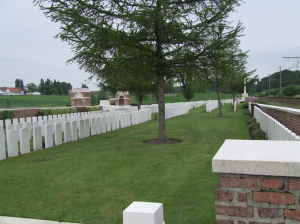 Arthur was born in Great Ashfield in 1893 (Stow Q4-1893 4A:745), the son of Harry and Hannah Boughton née Pryke.
In the 1901 census…Aged 7, he was at Daisy Green, Ashfield Magna with his father Harry (52) a carpenter, born in Ashfield Magna; his mother Hannah (38) born in Combs, Suffolk, brother Charles W(11), sister Olive G (9), brothers William G (4) and Herbert F (1). All the children were born in Ashfield Magna.
In the 1911 census Arthur, aged 17, a Domestic Groom was shown living with his father Harry, aged 62, a Carpenter, his mother Hannah, aged 47, his two brothers, Charles aged 21 a Farm Labourer and Frank Boughton, aged 11, a scholar and his sister Annie aged 8. They are shown as living in Norton Road, Great Ashfield.
Military and War: Arthur enlisted in Bury St Edmunds:
An excellent website www.bedfordregiment.org has the war diaries, from where we have this recorded:- "7 Oct 1917 Heavy artillery bombarded the GERMAN front line throughout the day with success. Our front line companies pushed forward patrols to ascertain if the ENEMY was still holding his same position. He was! Inter-coy relief took place between D & A companies – "B" would have relieved "C" coy but got badly shelled and was unable to do so. 10 O.Rs killed (One of which would have been Arthur) 15 O.Rs wounded"
This extract from The Bedfordshire Regiment's War Diaries relates to The Battle of Broodseinde which was a part of the 3rd Battle of Ypres and was fought on 4 October 1917 to the east of Ypres by the British 2nd and 5th armies and the German 4th Army. The battle was the most successful Allied attack of the Battle of Passchendaele. Using "bite-and-hold" tactics, with objectives limited to what could be held against German counter-attacks, the British devastated the German defence. This prompted a crisis among the German commanders and caused a severe loss of morale in the German 4th Army. Preparations were made by the Germans for local withdrawals and planning began for a greater withdrawal, which would entail the loss for the Germans of the Belgian coast, one of the strategic aims of the British offensive.
Unfortunately, Arthur's Service Records did not survive the 1939-45 London blitz.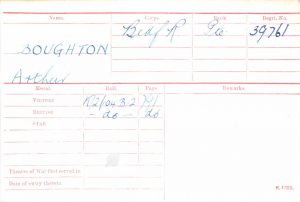 Arthur was awarded the British War Medal and the Victory Medal, often referred to by many as "Mutt and Jeff" after a popular comic strip. "Mutt and Jeff" were two characters, created by Bud Fisher in 1907 which centered on the tall and meek Augustus Mutt, an avid gambler and Jeff, a diminutive asylum inmate.
See Arthur's CWWG Commemorative Certificate, here. His headstone is inscribed "Safe in The Arms of Jesus" and can be seen below