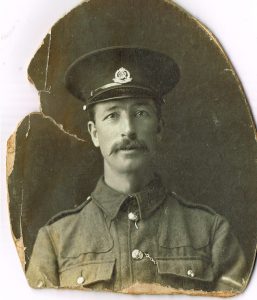 Leonard was born in the 1st Quarter 1880 to John and Betsey Churchyard (née Muddock) and christened on 4th April 1880 in Hoxne (Hoxne 4A-673).
In the 1881 census Leonard was now 3 months old and living with his father, John, aged 35, a Brickmaker and his mother, Betsey, aged 28 together with 6 siblings, James, aged 17, Mary, aged 5 and John aged 3 living in Kemps Field Green, Hoxne.
In the 1891 Census Leonard was 11 and living with his father, John, aged 45, now a Rat Catcher and his mother, Betsey, aged 39 together with 4 siblings, George, aged 10, James, aged 7, John aged 13, Charles, aged 9, Fred, aged 6, Frank, aged 6 and Lucy aged 2 living in Cross Street, Hoxne.
In the 1901 Census Leonard was now 21 and an agricultural labourer and living with the Laflin family as a Lodger in Ashfield Road, Norton.
In the 1911 census, Leonard now 29 was a Roadman working for Thedwastre RDC, still single and lodging with the Hazlewood family in Norton.
In September 1914 Leonard married Ethel May Laflin, aged 30, who was born in Ringshall, Suffolk.
Military and War: Other than the reference to Leonard serving in the Military Police in The Norfolk Regiment as mentioned in his Obituary.
Unfortunately no other record details have been located of Leonard's army career. It is highly possible that Leonard's records have been destroyed. In September 1940, as the result of a fire caused by an incendiary bomb at the War Office Record Store in Arnside Street, London, approximately two thirds of 6.5 million soldiers' documents for the First World War were destroyed. Those records which survived were mostly charred or water damaged and unfit for consultation and became known as the 'burnt documents'.
Post War: Ethel died on 19th March 1931 aged 68. In 1933, Leonard married for the 2nd time to Florence May Kemp (4A-2393). She died on 28th March 1968 and is buried in Richer Road cemetery.
In the 1939 register, Leonard is now aged 59, a Roadman and A.R.P. Warden, living with May, now aged 39, Charles, aged 22, a Lorry Driver and James, aged 20, a farm labourer.
Leonard died on 23rd December aged 96 having lived at 2 Back Lane Badwell Ash. In the Obituary in The Bury Free Press it stated that: "Mr. Churchyard who had worked for more than 50 years as a road man for the former Thedwastre District Council served with The Royal Norfolk Regiment as a Military Policeman during the First World War. He was keen member of the Silver Ash Over Sixties Club and dominoes player".

He is buried in the Richer Road cemetery, Row 13 Plot 20.