On the 29th April 2017 the Badwell Ash History Society together with St. Mary's Parochial Church Council held a joint exhibition to celebrate the completion of the turret clock restoration
To celebrate the completion of the restoration of the turret clock in the tower at St. Mary's church, The Badwell Ash History Society together with the St. Mary's PCC, held an opening ceremony and History Exhibition on Saturday April 29th 2017. The Exhibition included displays about the turret clock and its history along with the on-going research that the History Society has undertaken. The event was attended by over 150 people, including members of the British Horological Institute and Phil Rothwell, a member of the Heritage Lottery Fund East of England Committee, many of whom took the opportunity to climb the 41 steep and narrow steps up the clock floor to look at this historic timepiece in operation. There were also two illustrated talks, one from Ian Coote, The Diocesan Clock Advisor about the origins and history of turret clocks and a second from Dave Steward, a professional Genealogist about "The Hollonds of Great Ashfield".
The clock is now working and keeping relatively good time – it is after all over 300 years old! It is also striking the hours for the first time in living memory. The chiming has been set up so as not to put too much strain on the clock mechanism although the PCC think it's a little too quiet and have asked Hayward Horological, the clock restorers to see whether they can alter the way the hammer strikes the tenor bell in the tower to make it louder.
The final part of the restoration process was to install a time capsule in the clock room. The time capsule contained such items as a copy of the Hexagon, the Badwell Broadsheet, copies of two national newspapers, a copy of the report sent to the HLF on completion of the project, a Coca-Cola can, an old smart phone and a selection of photographs of the village. It will be sealed in a niche in the wall of the clock room and covered with a plaque that says "Time capsule placed here in August 2017. Please remove in August 2067".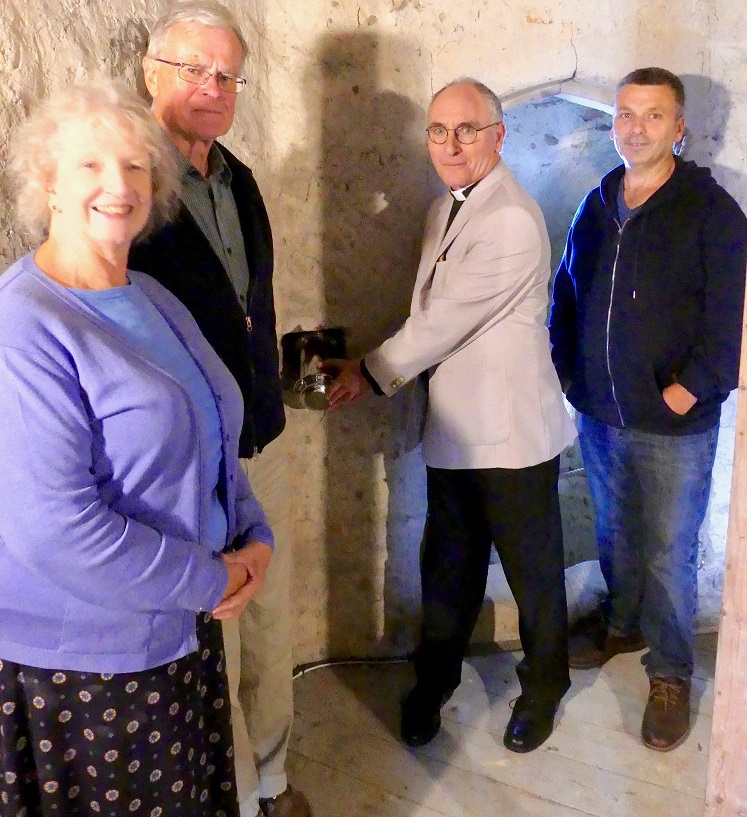 It is now hoped that the clock will go now on working for many years to come for another 330 years!   However we don't thinks its accuracy will be able to match modern day digital clocks – but its "more or less" correct time!