A brief history of rural crime and punishment in 18th and 19th century
Badwell Ash
The first police force in England was created in London in 1829 by Sir Robert Peel. The "Peelers", as they were known dressed in blue tail coats and top hats and were issued with a wooden truncheon, a pair of handcuffs and a wooden rattle to raise the alarm.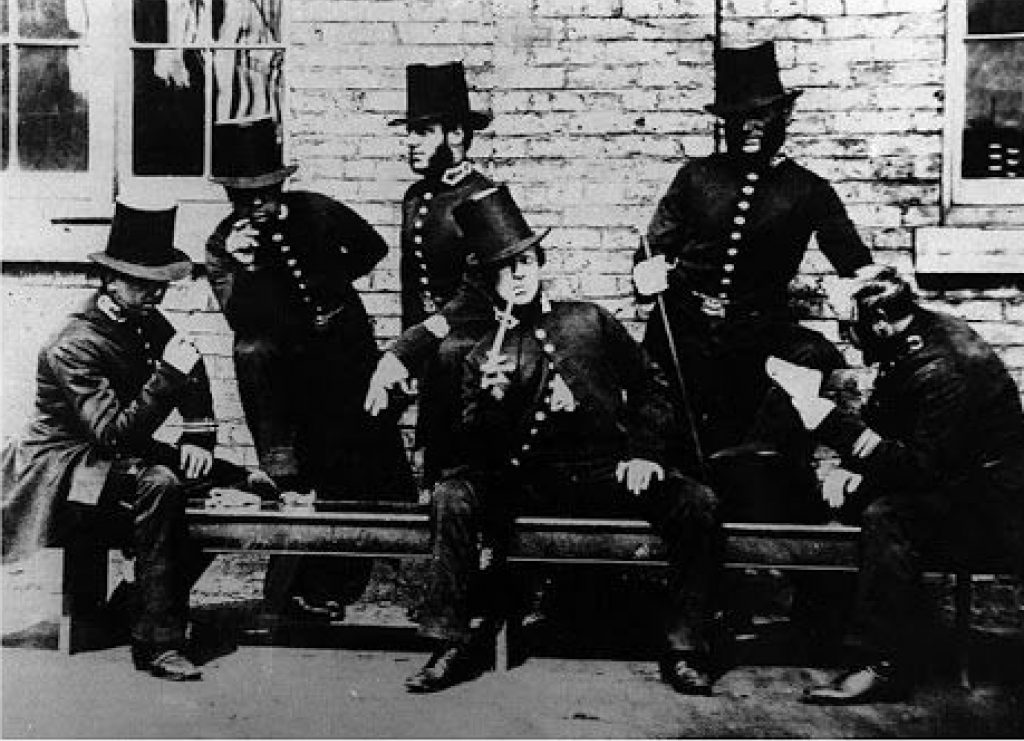 "Peelers", the first Police Force in England, 1829
© Greater Manchester Police Museum
In Suffolk, the West Suffolk Constabulary was formed in 1844, some 15 years after Peel had formed his police force in London. But how was law and order enforced before the introduction of police forces?
In the C18 the criminal justice system was very different. Prosecution of almost all criminal offences was a individual affair usually brought by the victim. In the early years of the C18 there were only two penalties for convicted felons; they were either to be let them loose or hanged!  New laws were gradually introduced as there was a perception that there should be some intermediate punishments for convicted felons between freedom and hanging.   One of the first was the Transportation Act of 1717. Thereafter Magistrates were increasingly given additional powers to imprison convicted felons and also to levy fines where they thought it was relevant.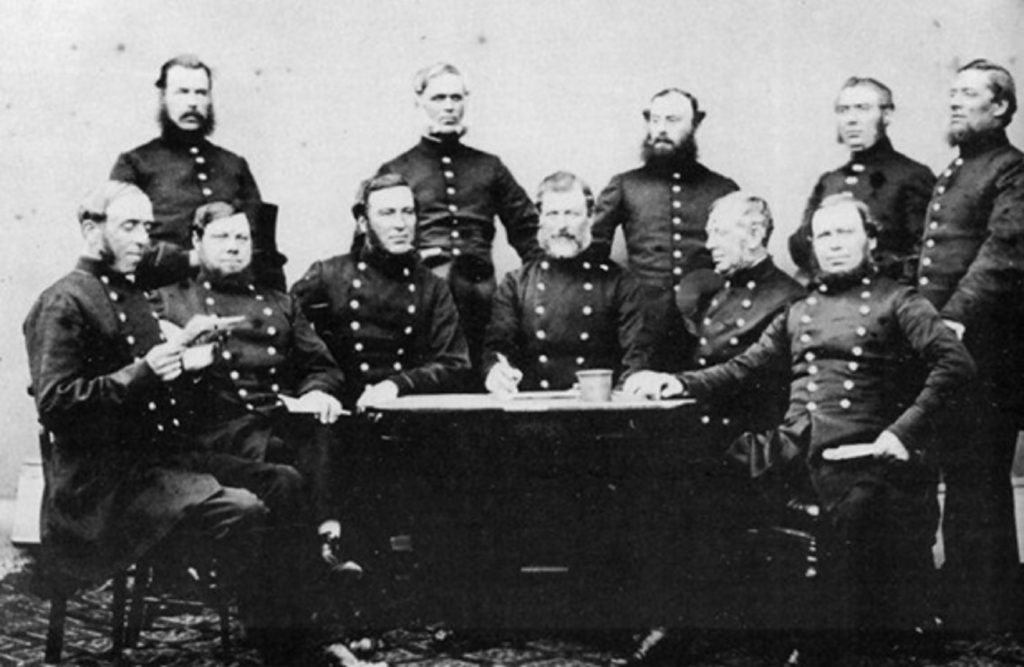 West Suffolk Constabulary in the late 1860s
©Pinterest
Under English Law during the Georgian period, the capture and prosecution of criminals was largely left to their victims to deal with. Every parish was obliged to have a constable, but they were unpaid volunteers working only in their spare time. A victim of crime who wanted a constable to track down and arrest the perpetrator was expected to pay the expenses of their doing so, any citizen could prosecute any crime. Charges were usually filed by the victim directly with the local Magistrate. For the most part, unless a criminal was "caught in the act" by their intended victim it was unlikely they would be brought to justice. In the absence of a police force, the maintenance of "Law and Order" therefore came to depend more on deterrence rather than apprehension and the harshest penalty of all, the death penalty came to cover more and more crimes so by 1799 there were 200 offences that carried the death penalty. The death penalty could be demanded for murder, rape, arson, forgery and even sheep stealing as well as theft of items with a monetary value that exceeded 25p! Criminals convicted of lesser crimes were fined, or shamed in public. Just as some parishes had their own small jail cells, it was common for there to be visibly placed implements for punishment such as the stocks. So whilst this raft of measures was in place to deter criminals if someone did commit a crime, how did you catch them felons so they can be prosecuted?
One solution adopted by the worthy citizens of many parishes was to set up Associations whose members of the community would pay a subscription which would in turn pay for and support the victim in his charge against the felon at the local Magistrates court. In rural parishes, such as Badwell Ash, most crime was rural crime and most of the crimes were associated with the landed estates, farming and farms.  So the logical step was to enlist the local land owners and farming fraternity to form an Association to protect themselves from crime.
The earliest known reference to the Badwell Ash Association is in 1783 during the reign of George III (1760-1820).  At that time it was called "The Badwell Ash Association for Prosecuting Persons guilty of Felonies, Burglaries, Larcenies and Thefts". It comprised 35 members, all who were land owners from the parishes of Badwell Ash, Ashfield, Bardwell, Elmswell, Fakenham Magna, Hepworth, Hunston, Langham, Norton, Rushford, Stowlangtoft and Walsham.  All the rectors from the various parishes were members as well as Sir Patrick Blake of Langham Hall with the secretary to the association, William Rose.  Their annual general meetings were held in The White Horse Inn in Badwell Ash.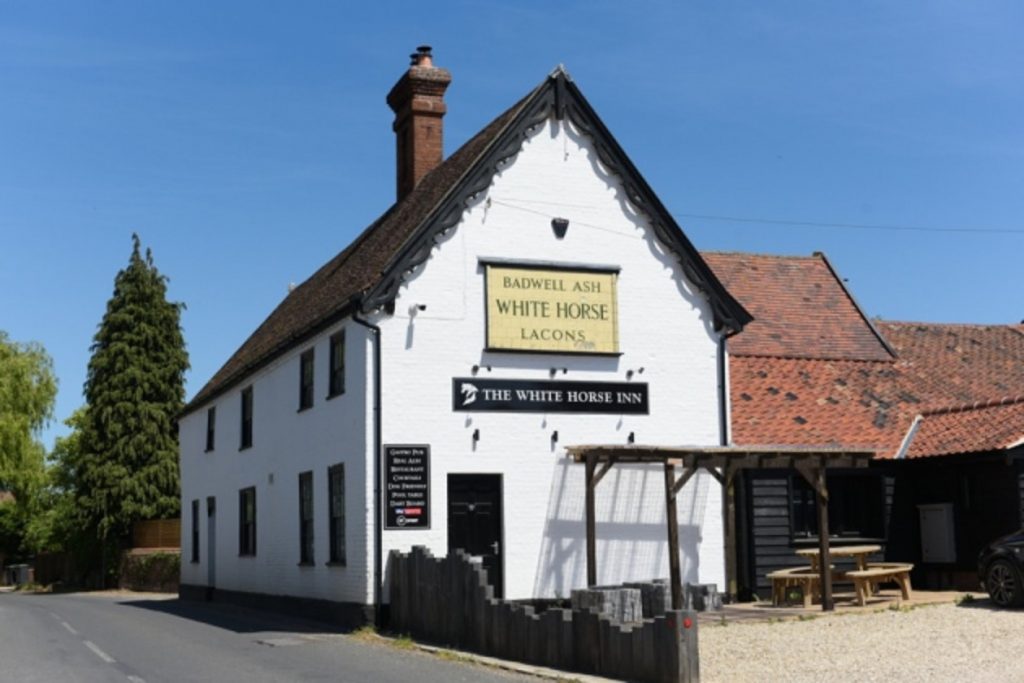 The White Horse Inn, Badwell Ash
©East Anglian Daily Times 
The members at that time were shown in an announcement three years later in the The Ipswich Journal of 3rd June 1786: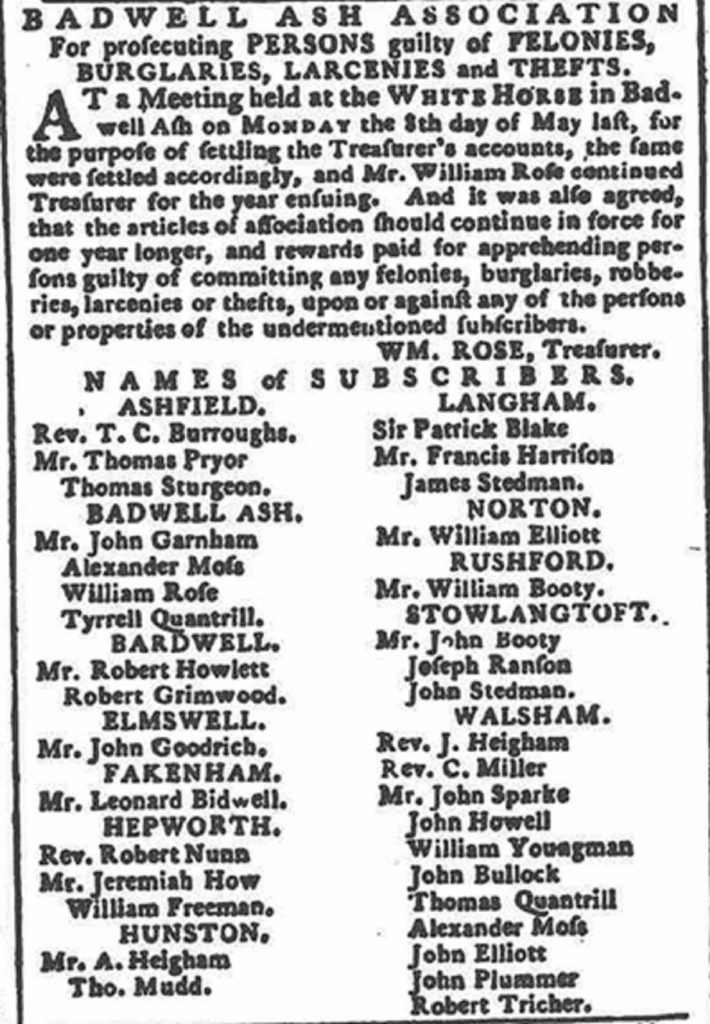 Membership of The Badwell Ash Association, June 1786
©British Newspaper Archive
 The following year in 1787 the Association, who always seemed to meet at The White Horse, in Badwell published mandated as follows:
"It was agreed to prosecute all persons who shall be guilty of any crimes or misdemeanours affecting the persons, habitations or properties of the subscribers, or of buying or receiving their goods knowing them to be stolen; and also to indemnify the subscribers in half the value of any horse, mare or gelding stolen; and further for offering rewards (over and besides the rewards allowed by Act of Parliament) for apprehending offenders;
 
£
s.
For apprehending or bringing to justice burglars or housebreakers:
5
0
For persons setting fire to any dwelling house, barn, stable or building or any stacks of hay corn or grain:

 

 

5

 

0

For every highwayman or footpad:
5
0
For persons stealing, stabbing, killing or maiming any horse, mare or gelding:

 

5
0
For persons stealing, stabbing, killing or maiming any sheep, ox, bull, cow or calf:

 

2
10
For persons guilty of any species of grand larceny:
2
10
For persons guilty of petty larceny:
1
10
Today, the value of £5 in 1787 is worth £430; £2/10s is worth £215.00 and £1/10s is worth £130.00
Over the 75 years or so of its existence it changed its name including for example "The Badwell Ash Association for the Prosecution of Horse Stealers and all other Felonies" and "The Badwell Ash Association for Prosecuting Felons and other Offenders".  The number of parishes involved also changed and towards the end of its life Sapiston, Stanton, Wattisfield and Wetherden joined in with a few others dropping out.  The last known entry for the annual general meeting of The Association was in 1880 when they had changed their name again to "Badwell Ash Association For the purpose of promoting the adoption of the most effective measures for the Discovery, Apprehension and Conviction of Felons, Incendiaries and other offenders for Offences committed upon the Property of any of its members". The membership at that time was reported in The Ipswich Journal and Suffolk, Norfolk, Essex and Cambridgeshire Advertiser as follows: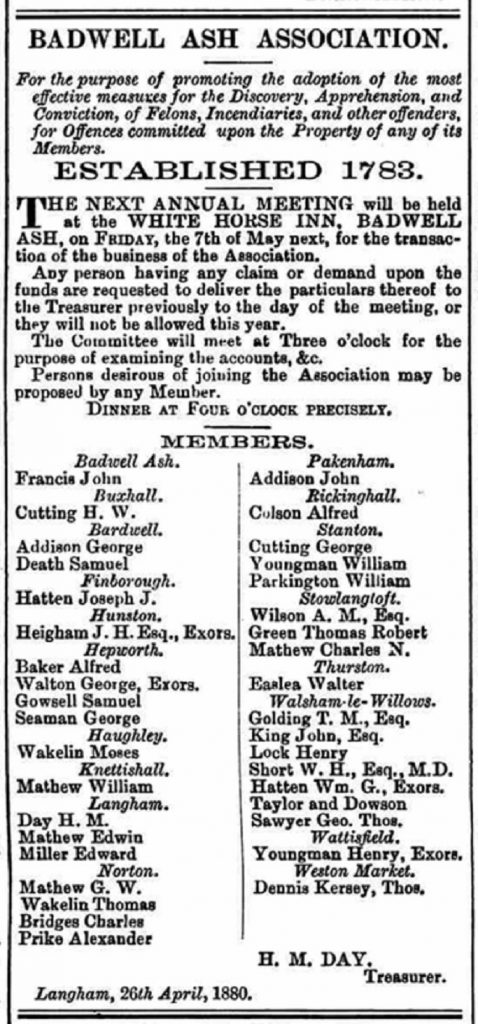 Membership of The Badwell Ash Association, June 1880
©British Newspaper Archive
Although the Association had changed its name it seems to have had the same purpose as originally intended but by the late C19, it had changed into more of a "gentleman's dining club" where, no doubt, exchanges of views took place as to the best way to prevent crime on their rural estates.  By the mid C19, several other similar Associations had been formed including the "Blackbourne Association for the Prosecution of Felons" which by that time included many of the villages originally incorporated into the Badwell Ash Association, but was a much larger group affiliated directly to the West Suffolk Constabulary.
Over the years the Association had frequently advertised in the local papers seeking information about crimes against its members so the offenders could be brought to justice:
Reported in The Ipswich Journal – Saturday 28 January 1797.
"Supposed to be stolen on the night of the 20th or in the morning of the 21st, out of a field in the occupation of Thomas Richer, of Badwell Ash, a one year old Whether Sheep branded on the right side with an "R". Whoever shall discover the offender or offenders shall upon conviction receive Two pounds Ten shillings from The Treasurer of the above Association; and the said Thomas Richer offers a further reward of two pounds Ten shillings upon conviction of the offender or offenders.  If the said sheep has strayed, all reasonable expenses will be paid to any person giving information of the same."
During its existence, there were a number of interesting prosecutions brought by the Association, including:
 As reported in The Ipswich Journal of 5th October 1833.
 William Ralph for stealing faggotts from certain premises in Badwell Ash to be imprisoned for one month. A faggot is a bundle of sticks or brushwood used as fuel for an open fire.
Perhaps one of the more bizarre cases reported in the same newspaper is that of Thomas Ling of Badwell Ash, for stealing part of an elm tree growing on land in Hunston.  He was imprisoned for two months!
As reported in The Ipswich Journal of Saturday 07 February 1835.
A William Smith was charged with stealing turnips belonging to Philip Parker of Parkers Farmhouse, Badwell Ash. He was committed to Bury Gaol for 3 months. This successful prosecution was the result of the theft being reported to the Badwell Ash Association.
It's worth noting how harsh the penalties were in the early C19 for petty crimes.  At the same Petty Sessions in Bury it was reported that a Robert Gosling, prosecuted for stealing one goose the property of William Tyler of Great Cornard, was given a 12 month gaol sentence, twice whipped and one month to be served in solitary confinement.
Much worse punishments awaited those accused of stealing valuable goods.  At the same Petty Sessions a George Simpson was prosecuted for stealing a silver watch from a Mr. Rainham of Shimpling and an Abraham Pilgrim was prosecuted for stealing 6 bushels of barley from the barn of John Beardwell of Wissington.  Both men were given a sentence of 7 years transportation.  In effect, very few men returned to England when their sentence ended and stayed in Australia, the destiny of choice for the English Justices.
The Ipswich Journal – Saturday 11 July 1840
At the Suffolk Trinity Sessions held at Bury St Edmunds "a Charles Tyrell, 25 and a Robert Knights, 20 were found guilty of stealing3 pecks of beans the property of Thomas Baker of Badwell Ash; 6 calendar months imprisonment"
Charges brought by the Association didn't always end in a prosecution.  On the 8th July 1843, as reported in The Ipswich Journal a James Warren was acquitted of stealing hempen sack the property of Robert Rose Parker.
On the 9th March 1844 it was reported in The Ipswich Journal that Caroline Smith was charged with stealing a bushel (56Lbs/25Kg) of potatoes, the property of Mr Thomas Francis of Badwell Ash and she was committed to Bury Gaol for two months.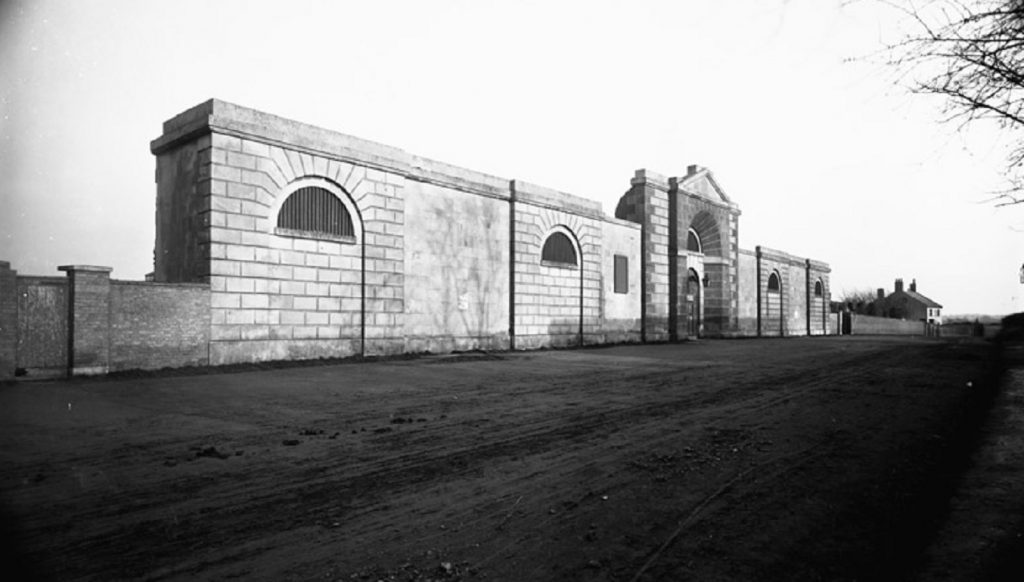 Bury St Edmunds Gaol and House of Correction
(Opened 1787 – closed 1878)
©Wikimedia Commons
From The Suffolk Chronicle; or Weekly General Advertiser & County Express for Saturday 16 January 1847 we learn that a Robert Davy, a yardman working for Philip Parker of Walsham stole two pecks of peas (about 10Kg). His case was reported to the magistrate by the Association and at the Ixworth Petty Sessions, despite a vigorous defence, he was sentenced to three months hard labour!
Below is a case reported to the magistrates reported in the The Ipswich Journal and Suffolk, Norfolk, Essex and Cambridgeshire Advertiser on January 9th 1869 of cruelty to a horse.   Charles Leggett, a horseman for Alexander Moss of Badwell Green was charge with mistreating a horse belonging to Alexander Moss.  Moss had told the magistrate at the Ixworth sessions "I have several times found my horses bleeding at the mouth….. Last Wednesday I saw two of them ploughing and one was bleeding a good deal. Leggett was at work with it,…I stopped them and said "Leggett what is the matter?" Apparently, Leggett denied there was a problem with the horse but when Moss looked into the horse's mouth he found a bridle that had been adapted so that it cut the horse's mouth when it was pulled.  Leggett was fined 5s or 14 days imprisonment.  Fortunately, as can be seen the punishments for rural crimes were diminishing when compared with a few years earlier.
There's no further reference in any publication to the Badwell Ash Association subsequent to 1880 and it seems likely that either it ceased functioning due to the increasing success of the West Suffolk Constabulary or it was subsumed into the much larger Blackbourne Association for the Prosecution of Felons.
Howard Newman
Badwell Ash History Society
December 2020
Bibliography
British Police History – https://british-police-history.uk/cgi-bin/index.cgi
Historic UK – https://www.historic-uk.com/HistoryUK/HistoryofEngland/Sir-Robert-Peel/
Making Sense of English Law Enforcement in the Eighteenth Century by David D. Friedman ddfr@daviddfriedman.com
British Newspaper Archive – Various Suffolk Newspapers
Ancestry.com; Researching family connections and the census Returns.
Find my Past: Researching family connections and the census Returns
Heritage Calling by English Heritage "Gruesome Georgians: Crime and Punishment. https://heritagecalling.com/2016/09/26/gruesome-georgians-crime-and-punishment/
Crime and Punishment in Georgian Britain; The British Library https://www.bl.uk/georgian-britain/articles/crime-and-punishment-in-georgian-britain
Jane Austen's World; Crime in Georgian England.
Bloody Code by Wikipedia.
History on The Net; Crime and Medieval Punishment.
The National Archive
Suffolk Constabulary: Suffolk Constabulary Museum
Prison History: Bury St Edmunds County Gaol and House of Correction.
Pastscape: Bury Gaol