Notes on Badwell Ash Onesuffolk.net entry for WWII headed "Holders, Peters and Smith"
http://badwellash.onesuffolk.net/badwell-ash-history/world-war-two/holder-peters-and-smith/
Arthur William Peters
Arthur Peters is not on the Badwell Ash War Memorial. 
By December 1939, when the 1939 Register was compiled, Arthur and his wife, Mabel were living at 1 Red Brick Cottages, Little Saxham where Arthur is described as a "General Labourer on Farm" and Mabel is described as undertaking "Unpaid Domestic Duties".  He is also not on the Little Saxham War Memorial.
This is probably due to the fact that the war records describe Arthur as having been killed in active service on the 11th May 1944 in India and is recorded on the Kohima War Cemetery, India, grave 2:A:25.
The only connection Arthur had to Badwell Ash was through his wife, Mabel (née Clarke) who was born in Badwell Ash.
 John Smith (Frederick Victor Smith)
John Smith is recorded on the Badwell Ash War Memorial
There are two "John Smith's" recorded on the website.    Frederick Victor Smith was also known as "John" and is the person recorded on the War Memorial as "John Smith"
John Smith
This 2nd "John Smith" is not on the Badwell Ash War Memorial. 
The reference on the Onesuffolk.net website may refer to a Jack M Smith, who is shown on the 1939 Register as living at The White Horse Inn with his father and mother Alfred (the Licensee) and Louisa.   Perhaps Jack, who is aged 22, was also known as "John", and possibly, this is where the confusion has arisen.   According to the 1939 Register Jack was a Fitter II (E) R.A.F. No. 649302 6 sq. TT based at Hendnesford.   R.A.F. Hednesford, near Stafford was a Training Camp where recruits/conscripts were sent for training as flight mechanics.
Jack is mentioned in The Bury Free Press of 2nd February 1945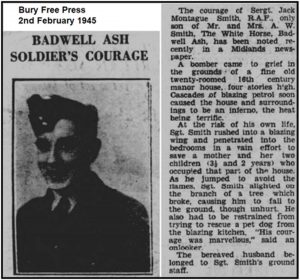 Jack married Phyllis Watson in 1941 and died in 1986 in Bury St Edmunds.