1918-1945
On Badwell Ash WWII War Memorial
Charles Blackburn was born on the 5th March 1918. He was the son of Ernest Edward and Caroline Blackburn (née Baker).
Ernest was born in Happisburgh, Norfolk in 1886. He married Caroline Baker in 1910 and is shown on the 1911 census, aged 26, as living with Caroline, aged 25 at Conyers Green, Great Barton. He was shown a domestic groom and Caroline is shown as being born in Chevington. In 1911, they had no children.
In the 1939 register, Charles is shown as a carpenter living with Boggis family in The Street, Market Weston.  The other members of the household were Thomas Boggis, aged 57 (born 14th March 1882), Emma Boggis, aged 59 (born 20th Nov 1880), Sylvia Vincent (née Boggis), aged 23 (8th July 1916), Iris Boggis, aged 21 (born 9th April 1918), Edward Boggis, aged 17 (born 3rd Dec 1922), Ernest Stewart, aged 36 (born 1st Aug 1903), William Stewart, aged 31 (born 24th Feb 1908) and Charles Blackburn, then aged 21.
In 1941 (Quarter 2) Charles married Iris Bernadine Boggis when she was 23 years old. In the 1939 census she is shown as living in the same household as Charles in Market Weston.
In 1943, Charles and Iris had a son, Peter Brian Blackburn.
Although there's no evidence that Charles ever lived in Badwell Ash, his parents, Edward and Caroline are shown in the 1939 register as living at The Bungalow, Westley Rd, Hunston, which is on the boundary of the parish of Badwell Ash. Both parents are buried in Richer Rd. cemetery so they obviously regarded St. Mary's as their parish church and this is undoubtedly the reason his name can be found on the War Memorial.
Military
Charles was a Corporal in the Royal Army Service Corps, No. T/14601292.
The Royal Army Service Corps (RASC) was the unit responsible for keeping the British Army supplied with provisions…
Charles died in Belgium on 31st March 1945 and is buried in Schoonselhof Cemetery, Antwerp, grave IV:B:13.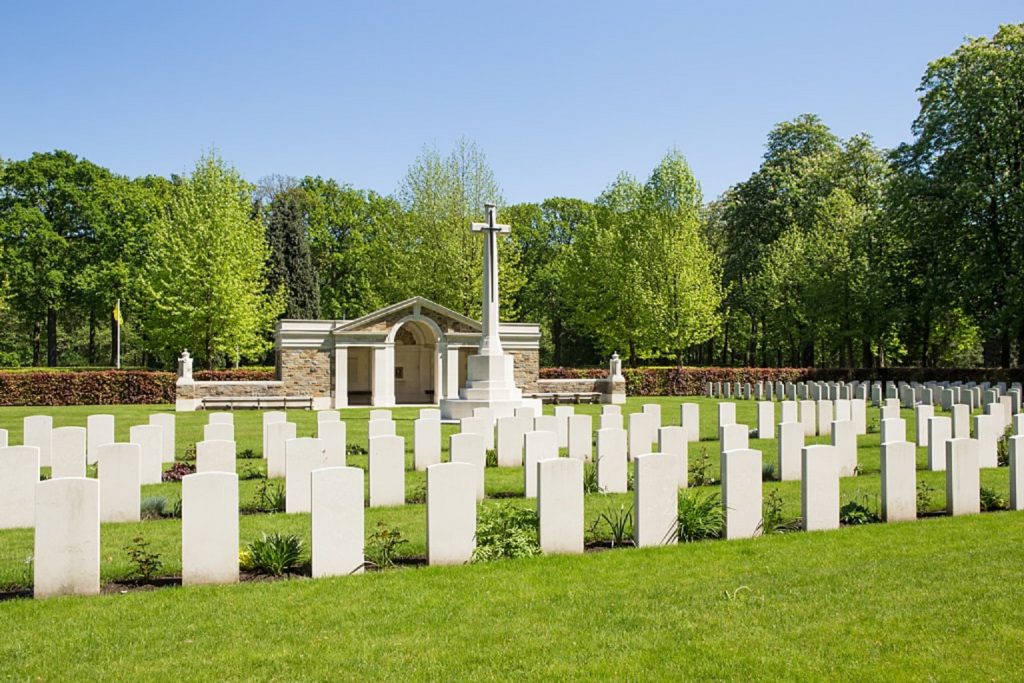 Unfortunately, there is no documented cause of Charles' death.  Schoonselhof Cemetery lies just to the south-west of central Antwerp and contains 1,455 WWII Commonwealth War Graves.  Antwerp was liberated during September 1944 but from then on the Antwerp area was heavily attacked by V1 "doodlebug" and V2 raids.  The V bomb attacks ended towards the end of March 1945 with the last attack being on 27th March 1945. Perhaps, there's a possibility that Charles was injured during one of the last of these raids and died of his wounds on 31st March, although this can only be speculation.
Probate was granted to Caroline, his mother, in 1945. Charles' address prior to his death in 1945 is the same as his mothers' and is shown as Lord Street, Hoddesdon, Hertfordshire..
Post WWII
After the Charles' death, Iris re-married a Peter William Clarke in April 1948.  Peter is shown as a Stockman, single and in the 1939 Register as living in Walsham le Willows. Iris died in 2007 at the age of 91 and is buried in Coney Weston.  Peter died in 1989 aged 72.
Peter Brian Blackburn married Jenny Farrow in 1965 and they are shown in the 2003 to 2010 Electoral Roll as living in Four Ashes, Walsham le Willows.
Ernest Edward, Charles' father continued to live in Badwell Ash until his death on 28th January 1951 and was buried in the Richer Rd. cemetery in Row 10, Plot 13.  It is believed that immediately prior to his death he was living in "a cottage near St. Mary's Church, Badwell Ash" (source – Funeral Register). Probate was finalised on 12th March 1951 with the next of kin being Caroline and Robert, a mechanic.
Caroline died aged 77 in 2003.  At the time she is shown as residing at Bristol House, Felixstowe and died in Walnut Tree Hospital, Sudbury on 20 Sept.1962. She is also buried in the Richer Rd. cemetery in Row 12, Plot 10.
Charles' Commonwealth War Graves Certificate can be seen here.